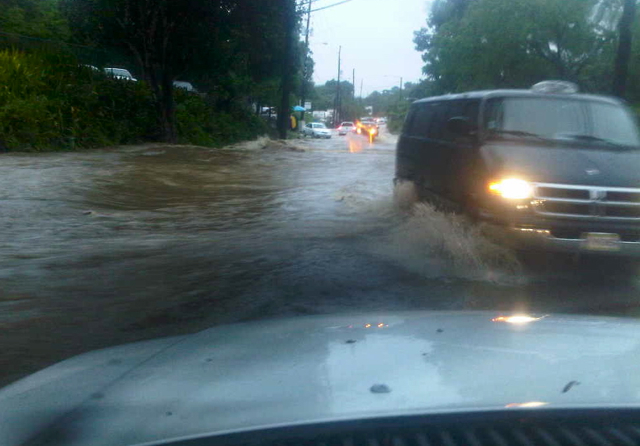 Heavy rain caused flooding in Havensight and Brookman Road on St. Thomas and at the Marketplace shopping center in Cruz Bay, St. John, according to V.I. Territorial Emergency Management Agency Director Mark Walters.
Walters had no reports of flooding on St. Croix.
"There are no major issues," he said.
The heavens had opened up Tuesday afternoon due to a tropical wave that just won't go away. The jury is still out on whether the tropical wave moving slowly across the Virgin Islands will develop into a depression, Jose Alamo. a meteorologist at the National Weather Service in San Juan, said at 8 p.m. Tuesday.
The National Hurricane Center gave the system a 60 percent chance of developing into a depression or a storm in the next 48 hours. Alamo said that if it develops rain will continue across the area until Thursday.
"It will continue to bring a lot of moisture from the south and southeast to the area," Alamo said.
The sky should clear some Friday and Saturday, but Alamo said another wave on its way to the area could bring more cloudiness and rain Sunday. He said that wave currently looks weak and unlikely to develop into anything stronger.
Another "impressive" wave just came off Africa, but is at a low latitude. Alamo said that it's harder for systems that start out at that location to pick up the spin necessary to develop into a hurricane.
While flash flood warnings remain in place until 12:30 a.m. Wednesday, a flash flood watch is in effect until 8 p.m. Wednesday.
Alamo had rainfall figures for St. Thomas and St. Croix. On St. Thomas, 3.03 inches of rain fell between midnight and 8 p.m. St. Croix had 3.17 inches of rain between 6:30 p.m. Monday and 6:30 p.m. Tuesday.
Weather Station Zephyr, located at Ajax Peak, St. John, saw 2.12 inches of rain fall between midnight and 8 p.m. Tuesday. The heaviest rain fell at about 2:30 p.m. when it rained at a rate of 4.36 inches per hour. The wind guests peaked at 39 mph around the same time.
Meanwhile, residents watched water run out of their cistern overflow pipes, mopped up leaks around their houses and when the winds gusted, saw small objects blow off porches.
At Wendy's restaurant, located at Mandela Circle in St. Thomas, supervisor Hazel Patem said the road in front of the restaurant was flooded. Additionally, she said there was a lot of water in the lobby, which forced the restaurant to keep only the drive through windows open.
"And two more days of this torrential rain and our parking lot will flood," she said.
St. Croix resident Claudia Carrington is relieved that there's no hurricane blowing over her head, but the "rain, rain, rain and more rain" has made things "wet and soggy."
St. John vacation villa visitors Max McQuillen and Terry Palmer of Connecticut spent Tuesday visiting Tortola with a stop at a marine store to buy foul weather gear. McQuillen said Tortola had plenty of mudslides and rocks in the road and he saw some rocks along the road on St. John. However, he was philosophical about the rain falling on his one-week vacation.
"A little bit of bit of bad weather is not going to change my attitude," he said.
Palmer was a bit disappointed at the bad weather but said she did get to the beach once.
"It rains on and off. It's pouring. You don't know whether you're coming or going," she said.