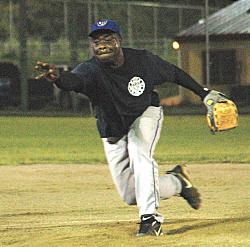 The Gov. Juan F. Luis Hospital Injectables came from behind Thursday night in game two of a Governmental and Industrial Softball League finals doubleheader to beat the Fire Department 14-13, evening the best of five championship series at two games apiece.
Fire won game one to take a 2-1 finals lead behind a good pitching effort by David Clarke, and after taking a 10-2 lead in the middle of the third inning of game two was ready to pop the champagne.
But the bubbly had to stay on ice another day as the Injectables began their heroic comeback in the bottom of the third, finally winning on a bases-loaded walk drawn by pinch hitter Gilberto Belardo with the score tied at 13 in the bottom of the seventh.
The Fire Department put over 10 runs in their first three innings, of which only three was earned. The Injectables were in a giving mood early as some sloppy play led to the unearned runs. They did cut the lead in half, at 4-2, in the bottom of the first on a two-run shot by Rael Sackey and would began their serious comeback in the bottom of the third when they came up with five more runs to get to within three at 10-7.
The Injectables added another run in the bottom of the fourth, and the lead was down to two at 10-8. Meanwhile, their defense had settled down behind starting pitcher Julio Perez, and Fire would not score again until the top of the sixth when they picked up yet another unearned run to lead 11-8. The health care team answered mightily in the bottom of the inning, and cheered on by supporters chanting "Injectables inside de fire hose, ay-ay-ay, oi-yo-yo", they erupted for five runs to take their first lead of the game at 13-11.
The rally was highlighted by a clutch three-run homer off the bat of Rashawn Foster.
Fire came back to tie the game at 13 in the top of the seventh, scoring two runs on an RBI single by Ronald Schjang and a bases-loaded walk drawn by Leon Lang to set the stage for the Injectables series-saving victory in the bottom of the inning.
Eustace Davis led off the inning with a single off of Fire closer Elroy Bates. After that at bat, Bates was seriously bitten by a wildness bug, and with Injectables fans heckling him he walked the next three batters he faced to force in the winning run.
Perez got the win on the hill for the Injectables while Bates got the loss. Top batters for the winners were Sackey (4 for 4 with two home runs and five RBIs), Kenny Milligan, 3 for 3 with one RBI, and Davis and Raymond (2 for 4 with one RBI apiece). For Fire, Marlon Williams and Jesus Saldana were 2 for 4 with one RBI apiece.