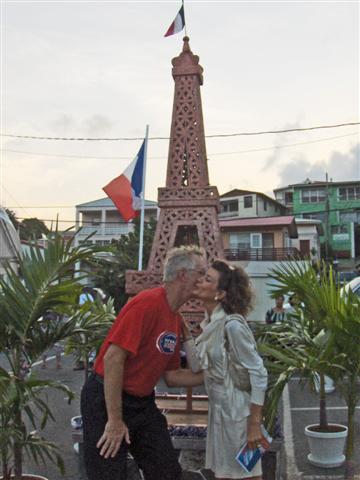 The day started much earlier when he was growing up around the corner, said Henry Richardson at the Bastille Day celebration in the parking lot across from the old Bar Normandie Wednesday evening.
"Tonight we started at six," Richardson said, "but when I was walking to school, the songs rang out from the bar starting at 7:30 in the morning. There was singing all day long … singing, and champagne and food." He laughs, "It just never stopped."
Even though things didn't start at dawn these many years later (and the Bar Normandie is no more), Richardson and the Frenchtown Civic Organization (FTCO) rose nobly to the occasion. Along with a small army of FTCO volunteers, the French spirit reigned supreme, with an evening of warmth, camaraderie and bonhomie.
Traditionally, the FTCO hosts the event, which brings the French community together to wind up the annual French Heritage Week celebration.
The evening started off with a rousing rendition of the French national anthem, "La Marseillaise," by the 73rd V.I. National Guard Army Band, the members spiffy in bright orange shirts, erect posture, and dancing feet.
That is to say, after the formal band marches, the brass section danced in place, having fun as it played backup to its four-member "Calypso Chorale."
Richardson said this Bastille Day was dedicated to the community itself, no special honoree. "We are treating everyone, each other, tonight," Richardson said, as he invited all to "enjoy each other's company, listen to the music, drink, eat and dance." And everyone happily did just that, nibbling on hors d'oeuvres, cheese and fruit trays circulated through the crowd as they danced, bussed each other on each cheek, and, per instruction, simply enjoyed each other's company.
The festivities were highlighted by an Eiffel Tower prominently to the side of the Frenchtown Heritage Museum. The replica was the work of Allan Richardson, well known on the island for his creative skills — from the lobster who lived on top of the late Barnacle Bill's restaurant in Sub Base to Carnival floats beyond number.
Honorary French Consul Odile de Lyrot said a few words, expressing her pleasure at the French evening, and honoring longtime former Sen. Lorraine Berry, one of the stalwarts of the local French community who is ill and not able to attend the celebration she has been part of for decades. "She is the soul of French Heritage Week," de Lyrot said.
Speaking later, de Lyrot said, "St. Thomas has the longest celebration of Bastille Day anywhere in the world, including France, where it is just a day. It is wonderful, amazing."
The evening did have a somber moment. After an invocation by Rev. Charles Crespo of St. Anne's Chapel, Dawn Petersen read the names of 16 members the French community has lost this year.
In true French style, dancing then continued into the night with the sounds of the Northside band, Get Together.