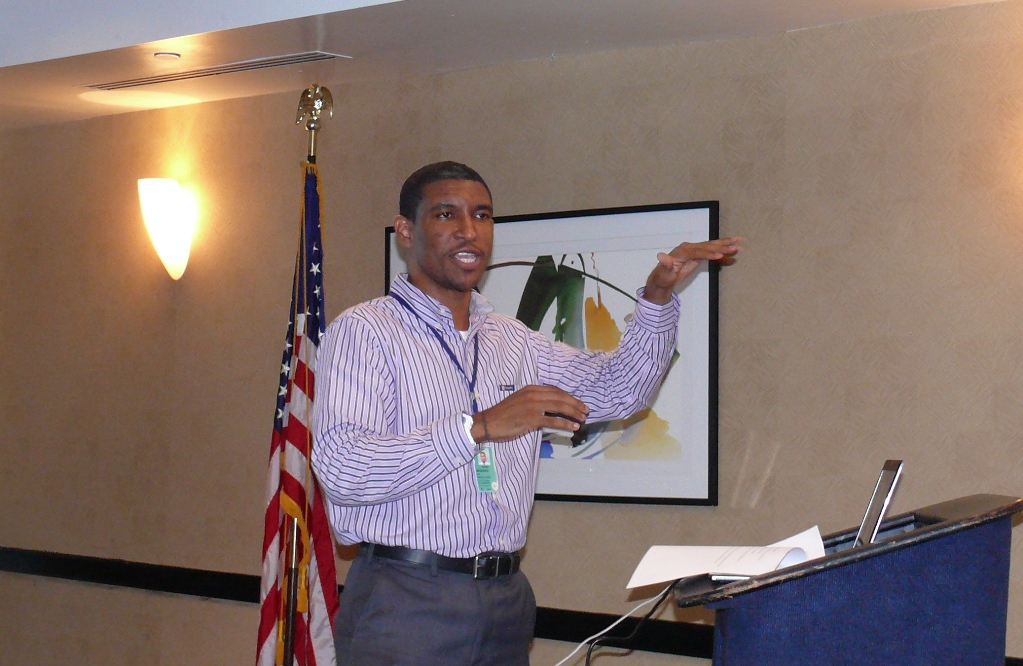 Alongside its more traditional promotional efforts, the Department of Tourism is now using social media like Facebook and Twitter to entice a worldwide audience to come visit, Assistant Commissioner Brad Nugent told the St. Croix Hotel and Tourism Association Tuesday.
"Come on guys, friend us please," Nugent joked to the room full of hoteliers at Divi Carina Bay Casino. With their low cost and potential wide reach, social media have a lot of potential as a way to draw visitors, Nugent said.
The Twitter feed gives up-to-the-minute suggestions to visitors on what's going on, from music to museum shows. It also provides important updates and messages. As of Monday night, the most recent USVI tweet was a link to a message about the recent tragic shooting at Coki Point, for instance.
To generate "buzz" and interest, Tourism is using Twitter to announce and hold contests for free stays, free shopping trips and other giveaways, Nugent said.
Tourism is also bringing two smart phone applications designed for savvy travelers into the mix: FourSquare and QR. FourSquare is an application available for smart phones, which lets users "check in" at a location and then see who in their social groups is in the same place. The most frequent checkers-in can become a "mayor" of a location.
"FourSquare is similar to Twitter, but you create information about the place you're visiting and when other people come and visit, they log on and see everything you have cataloged," he said.
With FourSquare, word of mouth from the public expands the body of helpful available information.
QR, which stands for Quick Response code, is more akin to traditional advertising, but with a techno twist. IPhones, Droids and other smart phones can use their devices to "read" a barcode-like symbol. The phone then opens up the sponsor's message, which may be a simple advertisement or a chance at a promotional offer.
Meanwhile, the department and its public relations firms continue with their palette of more traditional approaches, such as buying television, radio, magazine and newspaper ads. Tourism is targeting ads to niche markets, from weddings to scuba diving to culinary tourists, too, Nugent said.
Markets that might seem very specialized to an outsider can have a lot of potential for growth, he said.
"When I first started at Tourism, I was surprised to discover just how big the diving market in the territory is," he said.
When Nugent later showed a video of actual visitors to St. Croix talking about their experiences, several mentioned the beautiful diving.
"We've dived in a lot of places in the Caribbean," said one man in the video. "Dives shops make the difference, and the ones here are great," he said.
Giving the assembled hoteliers some of the latest tourism numbers, Nugent said the trend was heading in the right direction after a bad fall-off due to the worldwide economic crisis.
"As some say, we've had a less bad year," he said. "But we are not out of the woods yet."
Across the Caribbean, tourist arrivals are slowly rebounding, he said. Although aggregate tourist arrivals to the Caribbean declined by 3.6 percent for the year in 2009, the quarterly data show a trend in the right direction, with 6.6-percent declines in each of the first two quarters, a 2-percent decline in the third quarter and a smaller 1-percent decline in the last quarter.
In 2009, 666,000 tourists arrived in the territory, down 2.5 percent from 2008. As of March 2010, the territory has shown a 15 percent increase over 2009, reporting 213,000 visitors, Nugent said.
But even with a poor overall economy, the territory has room to expand its appeal to a higher proportion of the millions who are still traveling, and Tourism is working every avenue it can to bring them in, Nugent said.