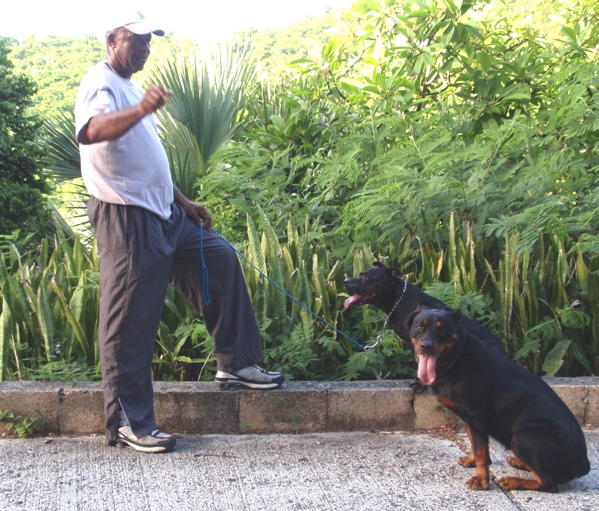 Ronald Henry's love of animals is never more obvious than when he is talking about his phenomenally well-trained dogs.
"People don't respect animals," Henry says while walking backwards, leading two canines up a steep hill in the Wintberg area of St. Thomas. People admire him for his training acumen, which verges on magical, but he laments many motorists don't slow down when approaching him and his two or three dogs walking by the side of the road.
To Henry, the dogs are no different than children.
"They would slow down for children wouldn't they?"
But some do slow down, wave, smile and even stop to chat with the six-foot tall man wearing a baseball cap, T-shirt, sneakers, nylon workout pants and a big, broad smile. His weekday afternoon routine gets attention, especially when Henry is walking on one side of the road and his female Rottweiler, Ambery, and black pit bull, Act, are slogging along, tethered only to each other on the other side directly on the white shoulder line.
What is not obvious at first glance is Ambery, daughter of Henry's first Rottweiler Jitney, is actually the one doing the training.
Over the years, passers-by might have seen as many as four dogs walking side-by-side with Henry anywhere between Skyline Drive and Magens Bay Road.
And Jitney, a friendly, mellow, Rotty was the leader in those days. Jitney died shortly after her second litter. Henry thinks he may have started exercising her too soon, but was never sure.
Henry trained her in his quiet, gentle way that he doesn't provide an explanation for; she trained the others down the line – including her own children, Chunky and Ambery. She also trained since-deceased Cinnamon, a boxer Henry admits to having held a special place in heart. When Henry would give a command, Jitney – tied to her trainees – would follow the instruction, leading whomever was attached to her through the command as well.
Henry laughs. "You see, it's not me."
But clearly, it is.
Though Henry got his first dog of his own at 12, shortly after relocating to St. Thomas from Antigua, it wasn't until he acquired Jitney in 2004 that his talent for training emerged.
"It just came naturally," he says matter-of-factly.
Walking on the left side of the road, dogs behind, Henry, after checking for cars, points to the right side of the road. "Right," he says: Act and Ambery make their way across the street; where they magically stay until Henry calls them back with just a hand motion much later.
"My dogs are good," he says talking also about their shortcomings. The pit bull is really good with people, Henry says, but not with other dogs.
"Ambery will stop when I tell her, but not Act," he shakes his head. If Act encounters another dog in his space, Henry says there's not much he can do to stop him from fighting. But what he does do is put Act on a leash when he nears familiar "other-dog territory."
On a recent Friday afternoon a couple of unrestrained dogs tested Henry's statement by rushing Act and Ambery from a yard in Wintberg. Neither of Henry's dogs made any move toward the attacking dogs until the interlopers were on top of them. At that point, though he was still leashed, Act went for the two; Ambery followed protecting her friend. After a few seconds of growling and snapping the intruders took off back into their yard, and the owner had already shown up to close the gate. Neither Act nor Ambery had attempted to follow them. Nor do they respond in any way when other dogs along the route bark and taunt from behind gated or fenced yards.
"I walk by here every afternoon," Henry says. "They know it," he says referring to the owner who left his dogs to run loose.
One little Chihuahua mix sits at the end of her driveway barking at the two much larger beasts … who ignore her.
"See, she knows how to act," Henry says of the little brindle dog that does not venture beyond her territory line and gets not even a glance from Act and Ambery.
Henry, whose day job is with the Health Department, not only expresses tenderness for his own animals but speaks passionately about how much it hurts him to see other dogs being neglected or maltreated. Passing another house protected by a white, badly matted, long-haired mixed breed Henry remarks, "If you had a beautiful new white pair of sneakers, you would keep them clean, take care of them." He gestures toward the barking dog, "It is painful to see a beautiful animal such a mess."
He admits though his life's desire to be a veterinarian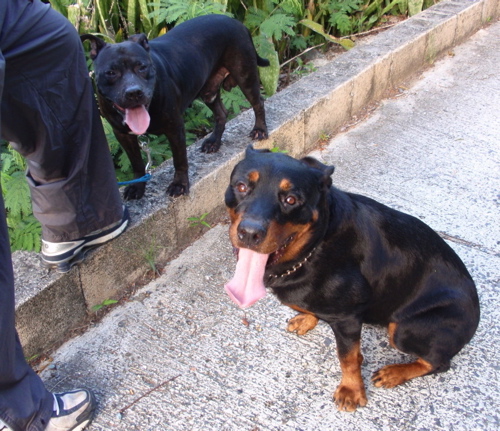 hasn't come true, it may not be too late for him to make his primary work be with dogs and animals. Many people approach him to train their canines. Sometimes he does, but is particular about which dogs he will take on. They should be young, he says.
And, there is always the opportunity to live vicariously. Henry's namesake, Ronald Henry Jr., who graduated two years ago from American University, hopes to attend veterinarian school one day soon. Meanwhile, Henry Jr. works for a vet in Washington, D.C. Henry's other son, 17-year-old Lauron, is still in high-school on St. Thomas.
In October, Henry will have 30 years with Health. When asked about his plans to spend more time with animals, he says simply, "Maybe I see it as a future."