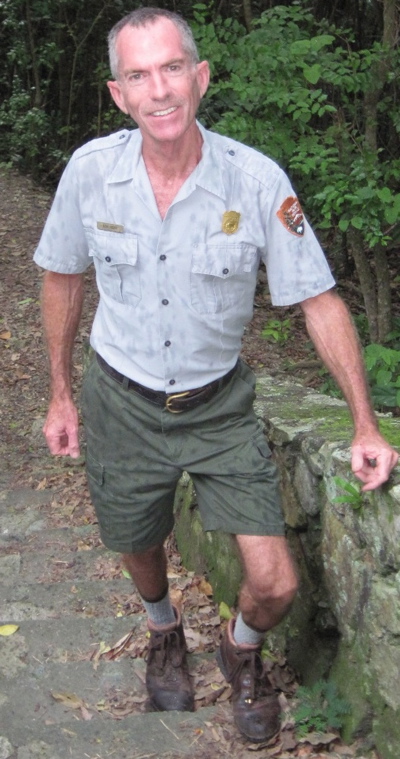 When V.I. National Park ranger Don Near moved to St. John in 1984, he wasn't sure how long he'd stay. However, after spending six years on Trunk Bay Beach as a lifeguard, he moved to the Interpretive Division in 1990
"It turned out to be a wonderful career I never thought I'd have. It fell into my lap," he said.
Near is a familiar figure to folks who visit the park's Visitors Center in Cruz Bay, where they might find him at the front desk. He also leads the Reef Bay hike and does myriad other jobs on the Interpretive Division staff. He works on the park's wayside exhibits, writes brochures and edits the park's newspaper.
Park Superintendent Mark Hardgrove said Near brings "a real sense of a naturalist" to the park.
"He's an outdoors person, and he loves to share his love of the environment with visitors," Hardgrove said.
He added that Near has a "real sense of integrity to the truth" when it comes to disseminating information.
Near was born in Little Falls, N.Y., a small town in the foothills of the Adirondack Mountains. He got a bachelor's degree from the Environmental Science and Forestry College in Syracuse, N.Y. but before he had any thought of putting that degree to good use, he headed off to Key West, Fla. to enjoy a party lifestyle for the next 10 years.
He came to St. John on vacation in 1981, staying at Maho Bay Camps. He returned a few more times, and while on vacation "chatted up" some members of the park's management staff. One thing led to another, and soon he was staffing the lifeguard stand at Trunk Bay.
The fact that he got the job had nothing to do with his college degree. Rather, he said that he took non-credit elective swimming classes in college, which gave him the skills necessary for the lifeguard's job.
He bought a piece of St. John land even before he moved to the island. After he was on island a few years, he built an eight-foot by eight-foot shack to call home while he built his main house.
Slowly but surely, St. John became home.
"I began to appreciate the peace and quiet," he said.
He now spends spare time gardening around his house to the point that landscaping may become his retirement career.
At 53, he still has a few years to go until retirement, but he's already making plans. An inveterate traveler, he plans to see more of the world once he has the time.
"To the places I never get a chance to go," he said.
South America is one the list, he said.
And he'll probably volunteer at the park.
That said, St. John will always be home. He likes the fact that he can be at the beach in quick order, jumping in to snorkel and swim whenever he pleases.
"I fell in love with the place," he said.