Five new weather stations are on duty in the Virgin Islands, reporting wind data from sea level to atop Crown Mountain.
The stations are part of the Mesonet Project, a network of automated weather stations monitoring environmental data throughout Puerto Rico and the Virgin Islands.
Sailors, especially racing sailors, use wind data to make sail selection and other decisions often before they leave the dock in racing venues like the Chesapeake and San Francisco Bays, but this data has been a long time in coming for the Virgin Islands.
"Its one advantage that we never had here," Bill Canfield who manages the St. Thomas Yacht Club and the International Rolex Regatta said. "Its nice to see technology catching up."
Canfield, like most sailors, is addicted to weather information and showed off the nine weather applications on his iPhone.
While an obvious boon for the recreational and commercial marine users as well as pilots, the data produced will also provide vital weather information and data for environmental research.
The data is supplied to the the National Hurricane Center and the National Weather Service Forecast Office in San Juan which is responsible for coastal marine forecasts for the U.S. Virgin Islands.
"Wind data are used for basic research to study global climate change, impact on atmosphere-ocean coupling and effect on interannual variability in ocean currents and how this affects many environmental issues such as transport of land runoff, pollutants, and fish larvae (retention/dispersion processes)," said Nasseer Idrisi, of UVI's Center for Marine and Environmental Studies.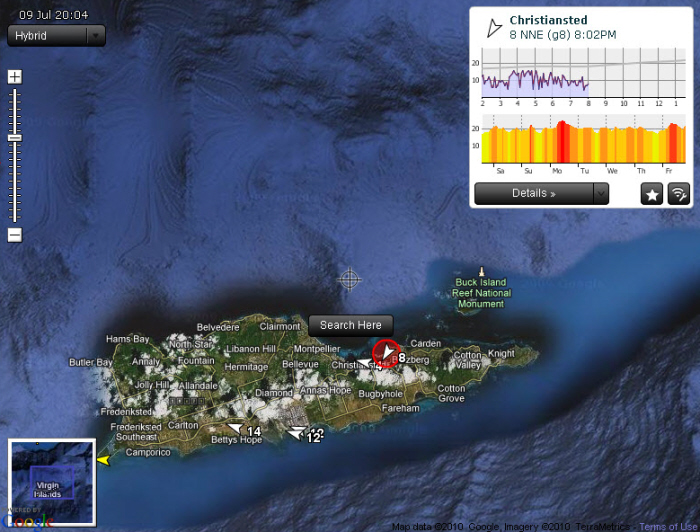 "Winds are used by the National Weather Service for weather forecasting, hurricane prediction, etc."
Three of the Virgin Islands' current meteorological stations are on land, and two are on navigational aids; one at the Two Brothers, west of St. John, and one on Buck/Capella Islands south of Charlotte Amalie.
On Savana Island, west of St. Thomas, the station is located on a coast guard tower. All instruments are powered by photovoltaic cells with the data transmitted via cellphone technology.
"Obviously, storm strength will impact whether or not a device can stay operational," Idrisi said. "Usually these devices can stand up to a Cat 1 and maybe a minimum Cat 2 storm."
Idrisi is currently in Puerto Rico to deploy a buoy off San Juan, he wrote in an email. Idrisi expects to deploy another buoy south of St. Thomas in Oct/Nov of this year.
"On the www.caricoos.org website, you can find many products that we measure as well as provide from satellite imagery: wave height and direction, air temperature, water temperature, ocean color, barometric pressure, current speed and direction, tides," Idrisi said.
"Most importantly, we are constantly working on the capability to forecast all these products," Idrisi said. "A large part of processing the data is for accuracy and precision quality control and quality assurance, and these are according to international standards.
Since we use these data for research purposes, we make sure of the accuracy of the readings and instruments are calibrated and checked on an annual basis.
The installation and activation of the stations and was conducted by UVI's Center for Marine and Environmental Studies on behalf of the Caribbean Regional Association. Some of the UVI graduate students are using the data that the stations are producing now, Idrisi said.
Funding for the project was awarded to University of Puerto Rico at Mayaguez (UPRM), from the National Oceanic and Atmospheric Administration to build the ocean observing system as part of the national Integrated Ocean Observing System, according to a release from UVI, which worked as a subcontractor with UPRM.
"Since 2008, we've spent around $1 million — we will have $1 million available for this coming FY 2010-2011," Idrisi said in an email.
The data can be accessed over the Internet at http://caricoos.org/drupal or at http://www.windalert.com.