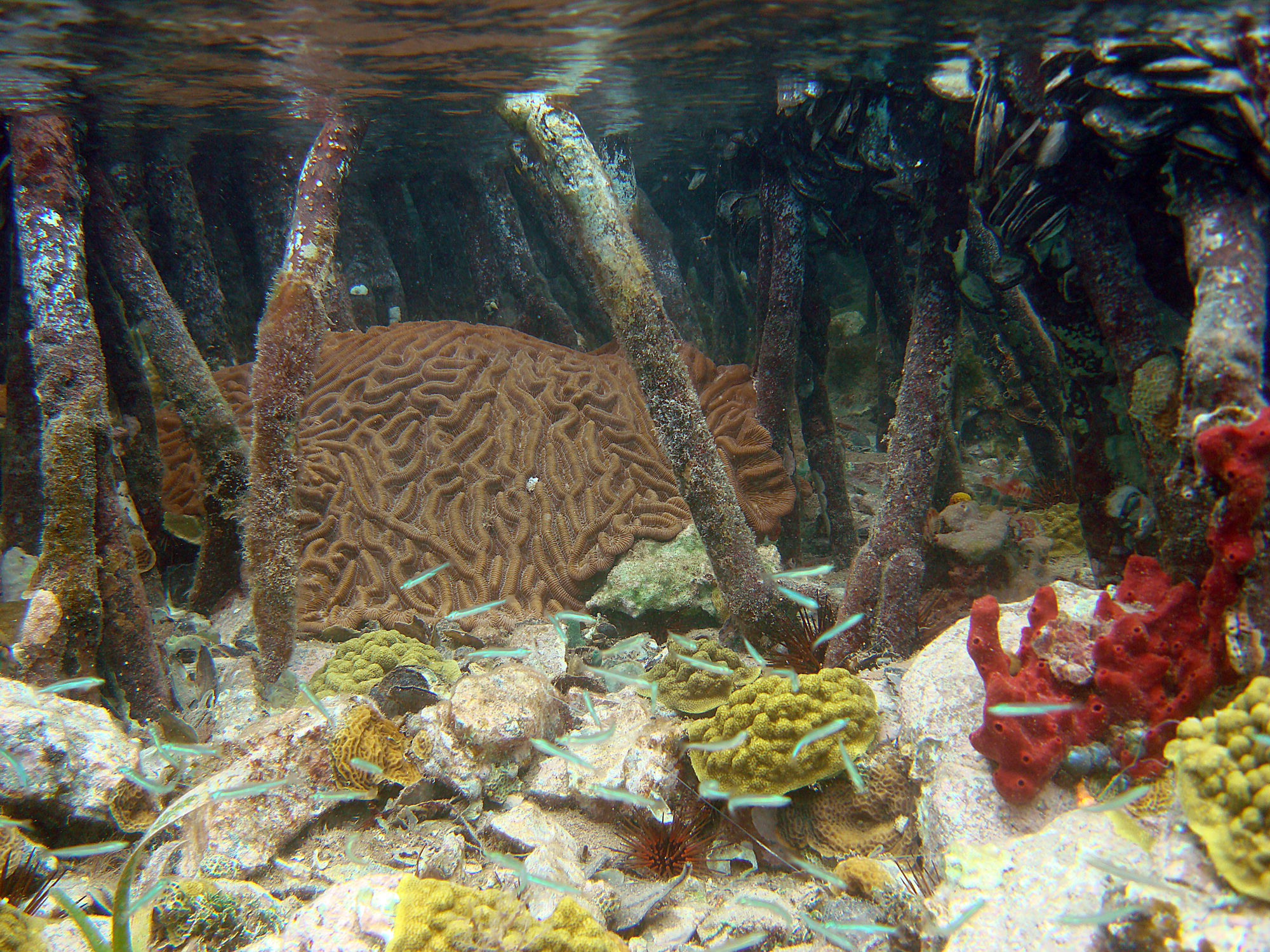 A new find at Hurricane Hole in Coral Reef National Monument provides some hope when it comes to the state of the territory's corals. Caroline Rogers, a U.S. Geological Survey coral reef ecologist based on St. John, found previously undocumented coral colonies growing among Hurricane Hole's red mangrove roots.
"I was absolutely amazed at the abundance and diversity," Rogers said.
She found over 50 species of corals, sponges and "amazing" anemones, Rogers said.
Usually, corals grow on reefs. Rogers said that mangroves are not the normal hosts for coral colonies because the water tends to be murky.
According to Rogers, her find raises numerous questions, including why they're thriving in this location.
"It's fascinating from the point of view of biodiversity," Rogers said.
She suggested that the shade cast by the mangroves might be one of the reasons.
"And we have to take a closer look at water temperature," she said.
Some of the Hurricane Hole coral colonies are so large, Rogers said, they were surely in place before the bleaching episodes in 2005 and 2006 decimated the islands coral reefs.
Unfortunately, no one created a baseline study of Hurricane Hole's mangroves, so Rogers doesn't know what they looked like before her discovery.
The area is in the national monument, but Hurricane Hole isn't that easy to get to unless people go by boat.
This is good news for the coral colonies growing on the mangroves because it will keep inexperienced snorkelers from damaging the fragile corals. However, Rogers said that boaters still speed through the area, churning up the water to the point that the sediment could harm the corals.
"This will clog up the filter-feeding organisms," she said.
While Rogers, an avid underwater photographer, discovered the Hurricane Hole coral colonies while snorkeling for fun, the Geological Survey is now funding research into the matter, she said.
Rogers said she hopes her discovery will encourage people to further protect the mangrove's coral colonies.
Mark Hardgrove, superintendent of both the national monument and V.I. National Park, several months ago instituted a ban on commercial boating use of the monument until a master plan is developed.
However, he said Tuesday that he's learned he has the authority to issue commercial-use permits without the master plan. He said that within the next couple of weeks, the park will issue permits to companies that take visitors on tours aboard power boat, sailboat and kayaks.
Since the park isn't running any ranger-led tours of Hurricane Hole, those companies will be the ones to provide information about the monument to visitors, Hardgrove said.
He spoke about the importance of Rogers' discovery to the monument.
"It's surprising that the roots are hosting the corals," he said.