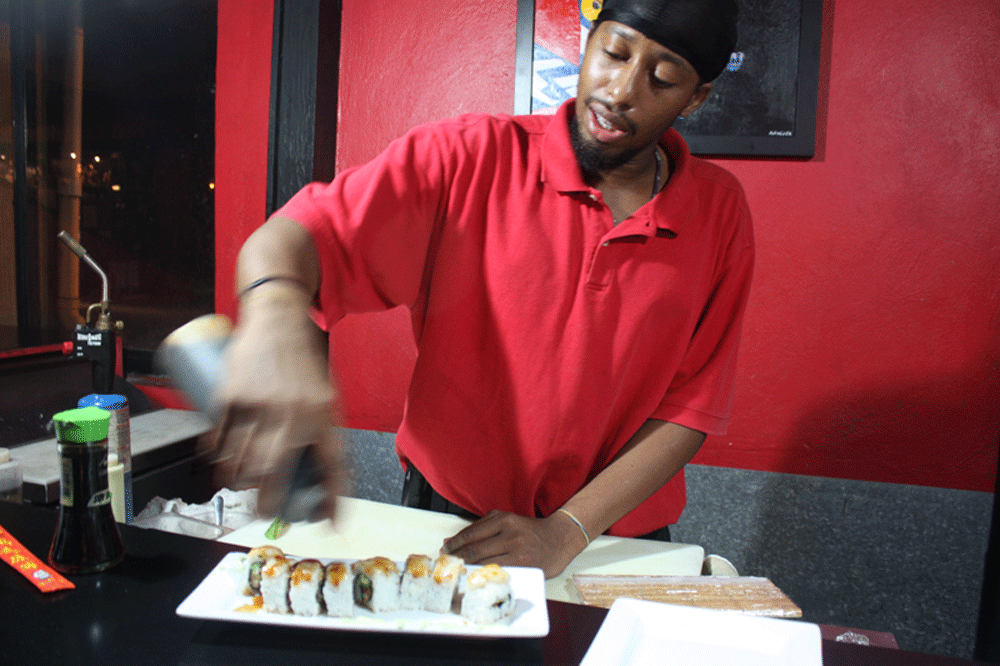 Twenty-six-year-old Buddha Sushi restaurant owner Taj Siwatu is a bundle of youthful energy.
Customers can find him at his St. Thomas establishment seven days a week— creating new and beautiful ways to showcase his combinations of fish, rice and sauces; soothing frazzled employees; and mixing up cool and sweet sorbets for dessert.
"I try to bring it to life," Siwatu said, as he put the finishing touches on his latest creation: the sugar stick sushi roll. The roll is made of cream cheese, cucumber and smoked eel, topped with white tuna and a little bit of sugar and then crusted over crème brulee-style with a butane torch.
He said that an employee came up with the name – and that was all he needed for inspiration.
"Usually, I come up with a flavor, or look, or great name," he said. "I work together with my team, and we come up with different combinations."
For Siwatu, food is more than something to eat – it is his chosen art form. From the restaurant's funky, Asian-inspired décor to the colorful flourishes that he adds to each plate of fish – his connection with presentation is obvious. He comes from a family of artists but says he chose the kitchen instead of the canvas.
"I was looking for my art form," he said. "I didn't really lean toward drawing and painting. I fell in love with the kitchen."
Siwatu said he always knew he wanted to be a chef and got his first job in a local restaurant when he was just 12. He learned more about the business as a student at Charlotte Amalie High School, where he took hotel and restaurant management classes. As a student, he interned at local eateries to learn the ropes, and now he is helping other would-be restaurateurs by giving them a chance to intern with him. He said he doesn't sugarcoat the business at all for his young interns.
"I try to be realistic with them," he said, "to really help them decide if this is what they want to do."
Siwatu said he hopes to one day expand his business by selling the unique and flavorful sauces he creates to go with his dishes. He said he'd also like to create a cookbook and open up other franchise restaurants.
For now, his passion for the restaurant is evident. He can seem to be everywhere at once and has his hands in everything to make sure his customers' dining experiences are just right. Here, he is prepping rice; there, slicing up fish; and elsewhere, he is collecting locally grown tamarind for his newest sorbet flavor. He mixed up the sorbet himself using fruit from a tree across the road from the restaurant.
"I had to climb a tree for those," he told customers.
Buddha Sushi is located in Frydenjoj. Call them at 340-714-3474 or find them online at www.visushi.com.