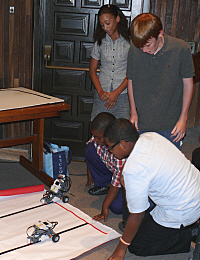 Twenty St. Croix middle school, junior high and high school students showed their skills in robotics and computer programming at the close of the University of the Virgin Island's Science, Technology, Engineering and Mathematics program Friday.
Since June 18, the students had two three-hour classes a day, with lunch at the UVI cafeteria, splitting their time between graphics and programming robotics. The students showed the fruits of the work they've done so far over their summer break to an auditorium filled with parents, teachers and fellow students. They made miniature robot models do a series of tasks and showed computer generated graphics they designed and programmed with the NetLOGO graphics modeling package.
First, the budding engineers showed their graphics and animation skills. Armed with a large projection computer screen, the students came up to the podium in twos, each pair first showing and telling the packed room how they went about programming their particular graphic sequence, then playing each of 10 short animations created by their programming. One had a shark eating a fish; another had stars and planets flying around, and yet another had a bouncing basketball and a flashing basketball team logo.
The entire group worked together to create a video game, with each pair working on a segment of the program. One pair of students; Torhera Durand and Cedric Patton, came to the podium a second time to talk about the game, a variation on the '80s arcade game Frogger with a giant Twinkie in the role of protagonist.
Next came a series of robotics demonstrations. Each team put together small, shoe-box sized modular robots, with wheels, electric motors, light, sound, touch and proximity sensors. One after another, they came up and put the robots through their paces, making them run through a series of preprogrammed maneuvers; follow a line on a board using a light sensor; drive up to an object but stop before touching it, and other practical tests of control over the diminutive high-tech machines.
"Every part of this was a lot of fun," said Patton, a seventh grader at Arthur Richards Junior High, afterwards. "It was really challenging and fun at the same time," he said.
Increasing student interest in math, science and engineering and promoting critical thinking skills are all part of the program's aims, said Michelle Peterson, UVI science coordinator and NetLOGO instructor.
"You see the immediate benefits in the wonderful work these students have shown today," she said. "But I think there are some stealthy benefits too, that do not show up right away but will serve them well in months and years to come."
The St. Croix Foundation has supported the STEM program since its inception and its president; Roger Dewey, spoke a few words about the importance of critical thinking and innovation to the economy, society and the national well being. He urged the students to keep at it.
"One of you could be the next Bill Gates or Steve Jobs," Dewey said. "Remember, there is not a penalty for failure, so long as you keep innovating. … Steve Jobs got fired by his own company. His company, which he cofounded, fired him. And 10 years later, they had to bring him back."
This year's STEM students were Patton, Durand, Michael Beharry, Donna-May Bernard, Miguel Comparativo, Sheldon DeGazon, Darryl Donohue Jr. Torhera Durand, Acassia Ferguson, Sojourner Ferguson, Nydia George, Wayne Gonzalez, Quinn Iles-Moss, Verne McSween, Mark Mootoo, Daleena Parker, John Paulus, Emanuel Ramos, Gabriel Ramos, Lais Williams and Saami Zakaria.
Some form of a computer graphics and robotics program for area students has been around in since 2000, Peterson said. The current form of the STEM summer program was set up in 2005 under the St. Croix Foundation Math and Science Scholarship Fund.
Harvey Clapp of Marmarus Management has sponsored the program, making it possible to pay instructors and buy laptops and robot parts. UVI also helped tremendously with in-kind donations of manpower, use of rooms, feeding the students in the school's cafeteria, use of UVI technical personnel and many other ways, Peterson said.
For more information about STEM or the St. Croix Foundation, call 773-9898.