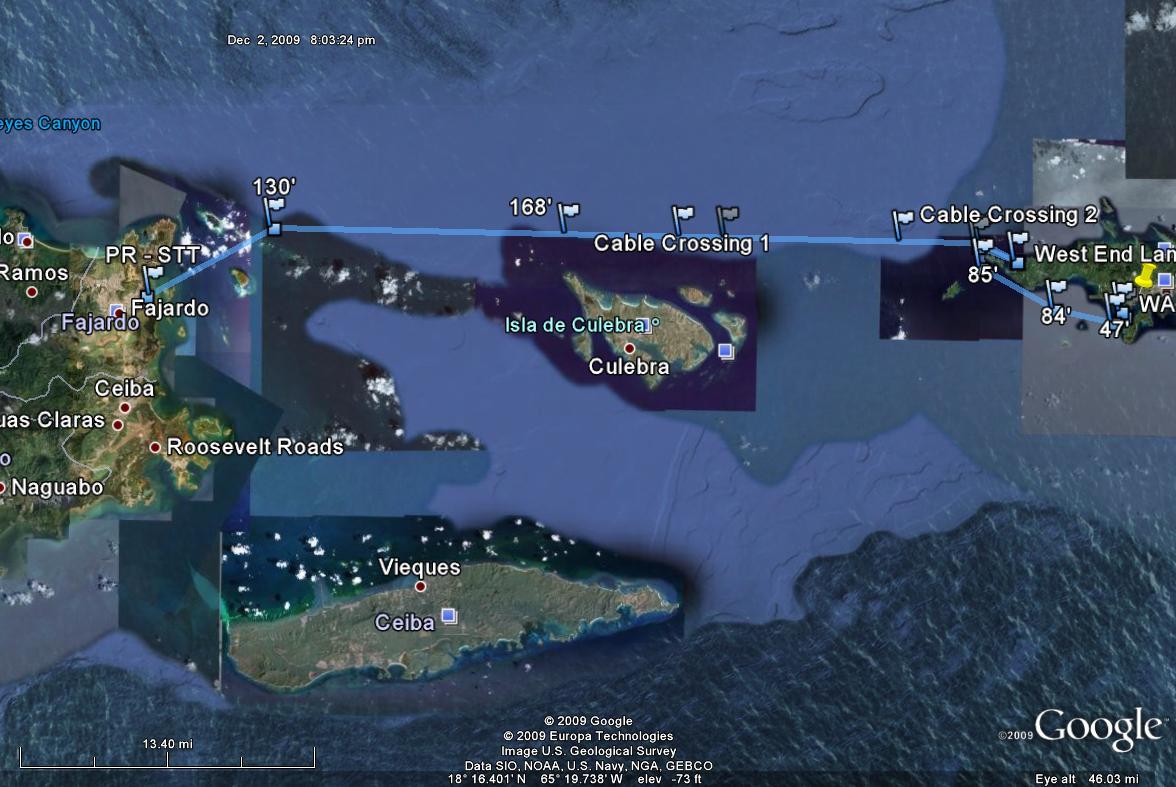 In an effort to reduce the territory's reliance on fossil fuels, the V.I. Energy Office and the V.I. Water and Power Authority have put together an agreement to conduct a feasibility study of an inter-island electrical connection joining the territory to Puerto Rico, Government House announced Monday.
"The feasibility study will evaluate whether the creation of an interconnection between Puerto Rico and Virgin Islands, and even linking to the British Virgin Islands, is practical and can assist us in mitigating rate increases that impact our residents", Gov. John deJongh Jr. said in a statement.
The grant is funded by $475,750 from Congress through the U.S. Department of Energy and $118,938 in WAPA matching funds.
Delegate Donna Christensen pushed for the federal appropriation, and in May she and other V.I. officials met in Washington, D.C., with the U.S. departments of Interior, Energy and State to explore the feasibility of the project.
Now, with this funding, WAPA will study the feasibility of inter-connecting the power grids between St. Thomas and St. Croix, between St. Thomas and Puerto Rico and between St. John and the British Virgin Islands. The study will select the appropriate submarine cable types, ensure the feasibility of high voltage direct current over such distances and depths, analyze the new configuration that would be needed for the power system, and provide preliminary cost estimates.
It will weigh the benefits and possible downsides by looking at such factors as the system's reliability, operating costs, future capital investment needs and any other potential factors. A Request for Proposal has been issued for release later this week, according to Government House.
"Inter-connecting one or more of these grids provides opportunities for WAPA to reduce its fuel consumption through four strategic approaches," said WAPA Executive Director Hugo Hodge, Jr. in a statement. "By inter-connecting the grids, WAPA could reduce its spinning reserves, buy power from Puerto Rico at a rate lower than it can produce, purchase wind power from the British Virgin Islands and begin to increase the electricity grid that would allow for a higher amount of renewable energy to be incorporated into its generation mix," said Hodge.
Reducing WAPA's fuel consumption would provide a measure of price stability for ratepayers and help the territory move towards meeting its energy goals, according to Government House.
"The potential benefits of increased reliability and lower electrical cost make the pursuit of grid interconnection without neighbors a very attractive venture," said V.I. Energy Office Director Bevan Smith. "We have great partnerships on this project with the federal government who view this as possibly the first link in a Caribbean-wide power grid."
Federal and private funding will be crucial to the project, which Hodge has estimated may cost between $70 and $90 million. As it seeks funding for the inter-connect project, WAPA has meetings scheduled for mid-July with U.S. Department of Commerce officials, the Federal Energy Regulatory Commissioner; Federal Emergency Management Agency, the Department of Energy and the U.S. Department of Agriculture.
"The interconnection of these two grids will improve stability and add fuel diversity for the Virgin Islands," Hodge said. In addition to the ability to obtain cheaper power from Puerto Rico, it would simultaneously increase the telecommunications and broadband capacity of the Virgin Islands, which would serve as a mechanism to attract business investment in the islands, according to Hodge.