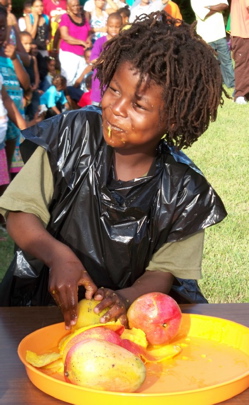 Mothers and fathers, friends and children, and women in merry Caribbean dress mixed and mingled to create a magical mood Sunday at the 14th annual Mango Melee at the St. George Village Botanical Garden.
The vendors' avenue behind the Great House was alive with the smells of local foods and offerings of local crafts. That avenue kept the crowds until late in the afternoon when the mango-eating contest started on the Great House lawn.
The contest always attracts a crowd, with everyone leaving the vendors to watch contestants in garbage bags, juices dripping from their faces, try to eat all the mangoes in the plate in front of them before anyone else at the table does.
In the children's division Adrian Pierce, age 11, took first while last year's champ, 8-year-old Abbiya Tafari, came in second.
Pierce said the secret to his success in his first mango eating contest was to eat, eat, eat, and try to keep it down.
"I really feel like I'm going to throw up," Pierce said as he struggled to keep it down. Pierce won $50 for his efforts and Tafari took home $15.
First place in the adult mango-eating contest went to John Cantrell, in his first contest, who downed eight mangoes in rapid succession. The win brought Cantrell $100, while second-place finisher Kevin Nicholas took home $35. Cantrell said he entered the contest for bragging rights among his co-workers at the hospital.
Jamie and Dave Nothstine, new to St. Croix, said they had a lot of fun at the event.
"This is certainly something we would never experience anywhere else," Jamie Nothstine said.
In the Mango Dis and Dat cooking competition there were two divisions this year – Mango Maestro Pro, a division for paid professionals and the amateur division, Mango Maestro.
The top finishers were:
Sips (drinks) – Maestro, Zandra Petersen, first, Jane Akin, second. Maestro Pro, Leo Dikinis first, Martha Jean-Pierre second.
Salsa and sauces – Maestro, Lindsay Houston first, Leo Dikinis second. Maestro pro, Ptahnubia Byrd first, Martha Jean-Pierre second.
Sweets and desserts – Maestro, Jayne Edwards first, Zandra Petersen second. Maestro pro, Carole and Jacky Dastugue first, Ptahnubia Byrd second.
The Dastugues, in their first Dis and Dat contest, won $50 for first place with their organic mango mint sorbet. They said they entered the contest for exposure since they have recently opened an organic sorbet shop in Gallows Bay.
"This was really an exciting and fun way to get exposure for our sorbet," Carole Dastugue said.
For $1 people could purchase two samples of the mango dishes entered in Dis and Dat. Marilyn Chakroff, from the Dis and Dat committee, said they had a lot more entrants this year than in the past so there were a lot of samples sold to benefit the garden.
Workshops were held on the nutritional value of mangoes and tropical fruit and the exporting of mangoes. David Hamada, the garden's horticultural director, was working a long line giving out complimentary samples of different varieties of mangoes.
There were kids games such as pin the mango on the tree and a mango obstacle course on the lawn behind the Great House. Sarah Smith, from the University of the Virgin Islands 4 H cooperative extension office, was giving Mango ices to kids taking part in the games.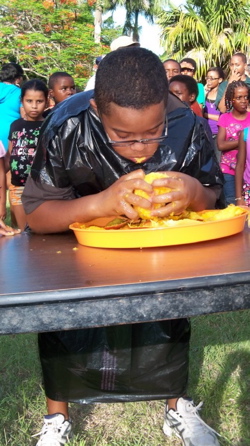 Almost 100 vendors sold local foods, drinks, sauces, pottery, lotions, soaps, jewelry, and clothing. And Junie Bomba, a regular at garden events, was selling his creations made from beautiful pink conch shells. The lines were long at the Armstrong's Ice Cream truck and at Dianne's Roti Master tent.
Martha Jean-Pierre, selling her local drinks at Martha's Specialties tent, said sales were going very well.
"I ran out of sorrel, passion fruit, lemonade and fruit punch very early this year," Jean-Pierre said. "I'm happy with the sales."
Resident Leona Williams said it was nice to spend the afternoon at the garden.
"It was fun meeting new people and seeing old friends," Williams said.
At the end of the melee the plethora of local fruits on display in the Great Hall were auctioned off.
Holly Herold, the garden's executive administrator, said she was pleased with the turnout but didn't have any figures on the attendance.
"I'm happy it didn't rain," Herold said. "The sun shone and people came out for some fun."