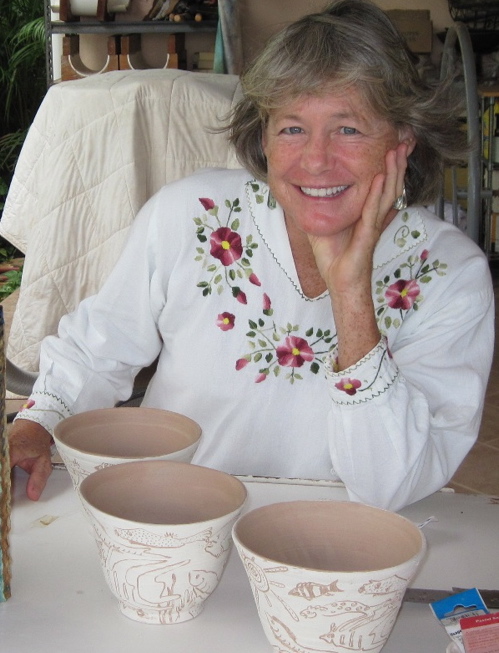 Catherine Perry has gumption. An unanticipated divorce created the need for some lifestyle changes so she moved full steam ahead on her art career, built an all-solar house on St. John, opened a guesthouse, and settled into the simpler side of St. John life.
"I took the leap of faith," she said.
She's been on St. John seven years, and when she built her house, she tucked an al fresco pottery and art studio behind the living room. With inspiration all around her in the form of St. John's undersea world and leafy hillsides, she creates ceramic sconces, bowls and other pieces that reflect what she sees.
"There's stunning continuous creativity above and under the water. It takes my breath away," she said.
Perry uses lots of blues and greens as well as tropical motifs like sea creatures, mermaids and others to decorate her pottery.
She's spent most of the past few years focusing on pottery, but now is brushing up her painting skills. She works in watercolors and has created pieces that reflect market scenes spotted on a sailing trip down island and the view from her house on the outskirts of Coral Bay as well as others.
"I'm constantly growing as an artist," she said.
Perry, a native of Huntington, N.Y., holds a bachelor's degree in fine arts from James Madison University in Harrisonburg, Va. After graduation, she married and raised her two children – Alyson, 26, and Jim, 28. Her Brooklyn, N.Y.-based daughter is also an artist. Her son is in medical school in San Diego, Ca., where he lives with his wife, Jen.
Always artistically inclined, Perry spent the years when her children were younger helping nurture their creativity. As they neared adulthood, she began to put her efforts into her art.
When she decided she needed a change, she looked for a place where the U.S. flag flew overhead and she'd fit in as a single woman. St. John was perfect. Perry found a community of like-minded artists who work hard at their craft as well as a cadre of very strong women who aren't afraid to tackle challenges.
"I love the depth of the women here," she said.
She splits her time creating art for sale with her efforts to keep her two–unit guesthouse, "House of Open Arms," in good order. It's a big job for a one person. She said she's mastered keeping the all-solar aspects of her house in top shape, greets her guests at the Cruz Bay ferry dock and provides a first-night welcome dinner for them.
Perry also offers her guests art classes and creates faux wall finishes for people building homes on St. John.
As for the future?
"I'd love to grow old on St. John," she said.
Readers can learn more about Perry's art at www.artofopenarms.com and see her guesthouse at www.houseofopenarms.com,