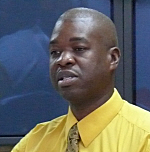 Tight on cash, the V.I. Water and Power Authority is looking to call in some debts to fill its fuel oil tanks for hurricane season, Chief Financial Officer Nellon Bowry told WAPA's governing board Friday. WAPA tries to fill its storage tanks most of the way up during hurricane season both to increase the tanks' strength to withstand storms and to give the utility several weeks of reserve fuel, should supply routes be interrupted.
WAPA Executive Director Hugo Hodge Jr. said he was "extremely concerned."
"We have to get to a point where we get our liquidity significantly improved," he said. Filling the tanks will cost between $5 and $6 million up front, Hodge said, but the cost is offset after hurricane season, when the utility can forego purchases while it draws down the fuel reserve.
Cash is scarce at the utility for two main reasons, according to Bowry: past due bills and temporary under-recovery of the cost of the fuel used to generate power. Gov. Juan F. Luis Hospital owes well over a million dollars, but is itself strapped, he said.
"We need an immediate infusion of cash and the most obvious source, without borrowing, is the $9 million due for public street lighting," Bowry said. The streetlights are paid from a set-aside culled from annual real property taxes, but those bills have not been sent out and the revenue will not come in time. So Bowry and Hodge have been speaking with Gov. John deJongh Jr. and are hoping to "get some relief soon" through a $250 million line of credit being negotiated by the V.I. Government to bridge recession induced revenue losses this year.
"The governor once sat on this board and he understands the challenges we face," Hodge said.
In another financial challenge, WAPA's health insurance premiums are going up 7.3 percent in the next fiscal year, complicating union contract negotiations and slightly changing the numbers before Senate budget hearings later this year, Bowry said.
Moving to tanks of a different sort, the board voted to approve a $1.5 million contract with Tampa Tank to rehabilitate a 10 million gallon water storage tank at St. Croix's Estate Richmond WAPA facility. The contract calls for work to begin in November, after hurricane season ends. Rupert Pelle, WAPA's St. Croix director of water distribution, said a robotic integrity check in 2004 found problems in the tanks floor and corroded, fallen roof supports. The work is fully funded with $1.5 million in federal grants, he said.
St. Croix should be producing enough water so there will be no shortages as a result of taking the tank offline for repairs, Pelle said.
The board approved a $50,000 contract supplement with Schweitzer Engineering Laboratory for work on upgrades to the St. Thomas electric system's Randolph Harley substation, bringing the total cost for the systems Schweitzer is installing to $234,000. In other business, the board approved a contract with Hovensa to deliver fuel oil; contracts with stateside utilities for assistance in the event of a natural disaster and several contracts for plant maintenance, security and pruning around power lines.
Present were chairwoman Juanita Young, board members Noel Loftus, Gerald Groner, Donald Francois, Cheryl Boynes-Jackson and Commissioner of Licensing and Consumer Affairs Wayne Biggs. Absent were Brenda Benjamin, Commissioner of Planning and Natural Resources Robert Mathes and Director of Personnel Kenneth Hermon.