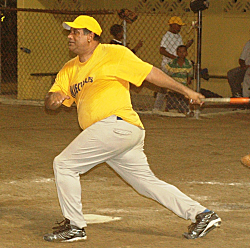 The Governmental and Industrial Softball League playoffs got off to a surprising start Thursday night at the D.C. Canegata Ball Park as the lowest-ranked team, the Rebels, surprised the regular season champs and number one seeded Fire Department, 8-6. The Juan Luis Hospital Injectables, who finished second in the regular season, were not going to be surprised in game two. They pummeled the Education Department, a team who had beaten them two times out of three in their head to head match ups this season, by a score of 19-5.
Rebels 8, Fire 6
The Rebels, a team which had wallowed at or near the bottom of league standings all season long, had to win on the final night of the regular season to claim the final playoff spot. They took full advantage of their inclusion in the playoffs by surprising the top seeded Fire Department 8-6 in game one on Thursday. It was the Rebels with eight runs on 10 hits and four errors, while Fire plated six runs on six hits and they committed three errors. Belardo kept Fire's powerhouse lineup off balance all night in picking up the victory. Troy Browne got the loss. Top batters for the Rebels were Kahleed Mathew (1 for 4 with three RBIs), Eduardo Sanes (2 for 4 with one RBI), and David Clarke was (3 for 4). For Fire, Mario Christian and Jesus Saldana were both 2 for 4 with one RBI apiece and Steve Simmonds was 2 for 4.
Injectables 19, Education 5
The Injectables, who lost the regular season series to pitcher Gareth Knight and the Education Department, wasted little time in letting their nemesis knows that the playoffs were going to be a different story. From the first inning, the health care professionals jumped all over knight and did not let up until he was mercifully sent to an early shower. Knight was unusually wild on Thursday, but when he did get it over the plate he was hammered to all corners the field. The Injectables hurler, Julio Perez, on the other hand pitched one of his best games of the season in limiting the educators to just five hits in picking up the win. The Injectables finished with 19 runs on 12 hits and two errors, while education had five runs on five hits. Top batters for the winners were Guido Schjang (2 for 3 with a home run and two RBIs), Freddie Pimentel (2 for 3 with a home run and four RBIs), and Kenny Milligan (2 for 4 with four RBIs). For Education Enrique Soto and Saul Santiago were 1 for 3 and 1 for 4 respectively with one RBI each.