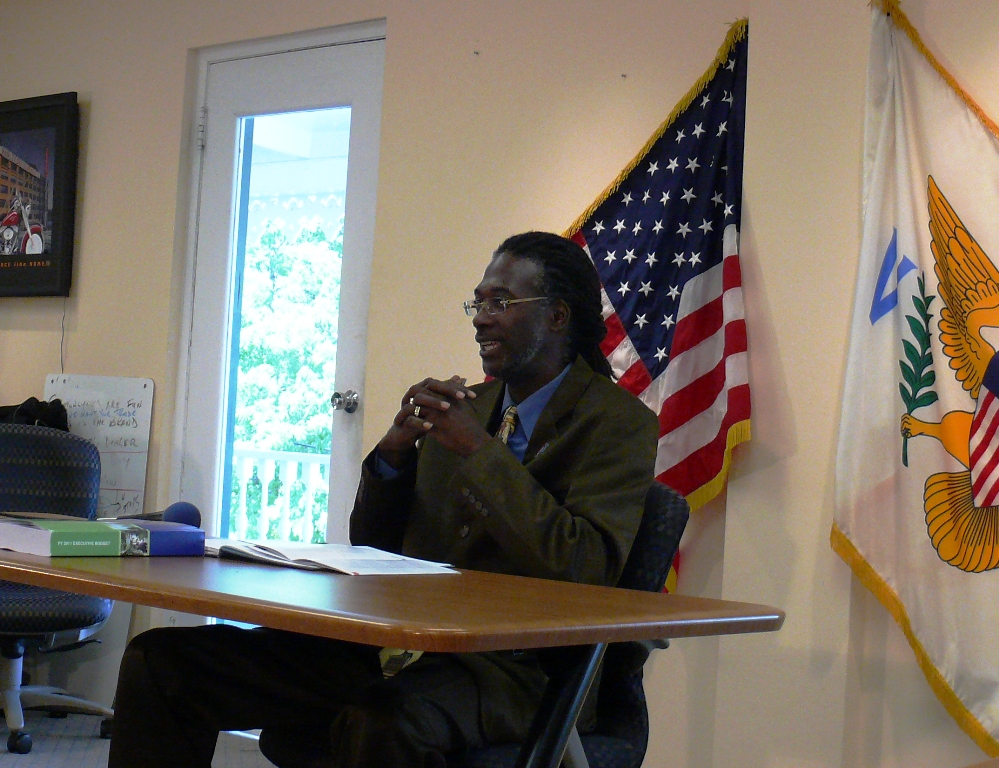 Putting an end to rumors and speculation, Sen. Terrence "Positive" Nelson announced Tuesday he will be running for governor of the U.S. Virgin Islands this fall. The three-term ICM party senator from St. Croix made his announcement from the offices of Alliance Customer Service Center on Strand Street in Frederiksted.
If elected, Nelson said he wants to abolish the hated Levelized Energy Adjustment Clause (LEAC) fuel cost line-item on resident's power bills, in part by building a new power plant on St. Croix's south shore. Such a new plant would have to generate power from multiple sources and fuels, he said.
While a plant that generates power from refuse and other fuels would be helpful, Nelson said he does not support burning petroleum coke to generate power, especially on the big island.
"It would go against the whole green tourist product we are working toward here on St. Croix," he said.
Asked how a new power plant would be financed, Nelson suggested a federal appropriation was possible.
"It is called earmarks," he said. "We need to approach Congress for an earmark for a power utility."
Nelson suggested another option might be to follow the practice of some localities who have private companies build roads and bridges, paying for it through tolls and eventually turning over the roads and bridges to the local jurisdiction.
Nelson was one of five St. Croix senators who voted no when Gov. John deJongh Jr. arranged a deal with the Diageo Corporation to build a distillery on St. Croix and thereby bring an average of $100 million a year in new revenues to the territory. And he still opposes the deal, arguing its generous terms are putting that entire revenue stream at risk.
DeJongh's deals to bring Diageo to St. Croix and to expand the Cruzan Rum distillery have "started an international trade war," Nelson said. "The World Trade Organization is involved now."
While on paper the two deals may bring in upwards of $200 million in new, long-term annual revenues to the V.I. Government's coffers, Nelson argued, if the generosity of those two deals wind up scuttling the lucrative rum excise tax cover-over from the federal government, then the deals will hurt, not help the territory, he said. And now, Puerto Rico's other rum makers are starting to demand equivalent deals in order to stay, he said.
With the V.I. budget strained and resources scarce, is the government top heavy and where would Nelson cut the budget?
"The V.I. Government could use a good accountant," Nelson said.
"We need to redistribute down from the top to the service level," he said. "Government may not get smaller, but it will be more efficient."
Nelson said he has a running mate in mind and will soon be ready to say who it is, but not just yet. Campaign headquarters will open later, "when resources have been identified," he said.