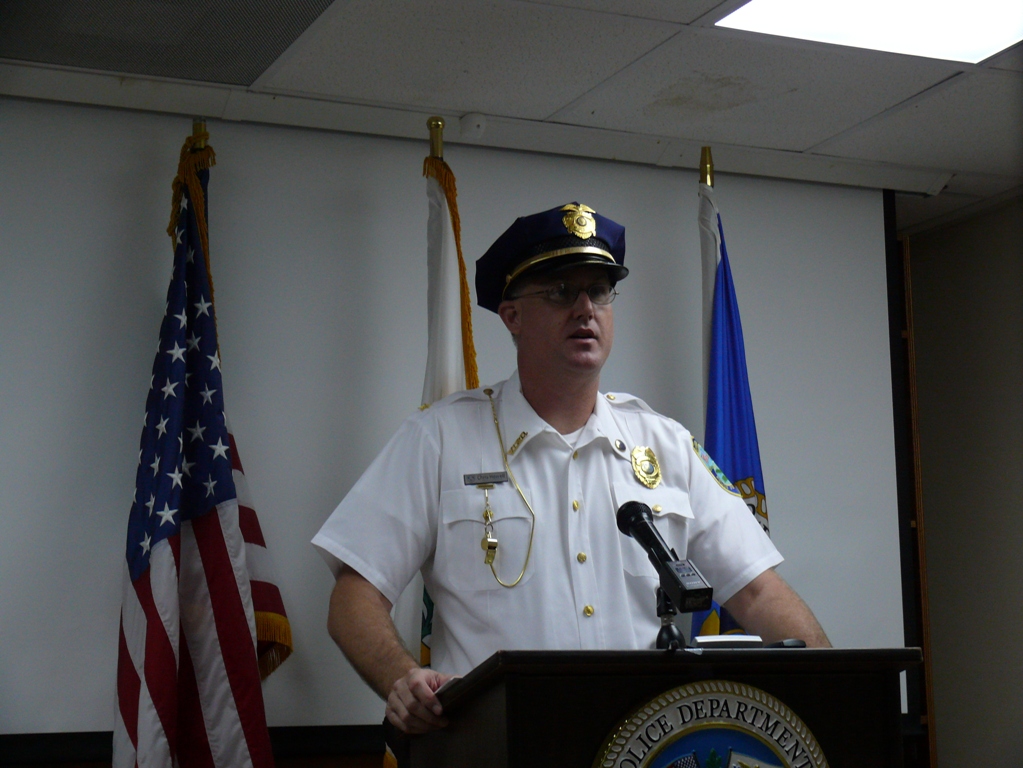 Finding more robberies and homicides motivated by hopes of making fast cash off stolen gold jewelry, the V.I. Police Department is clamping down on the growing number of cash-for-gold businesses sprouting up in the territory, Deputy St. Croix Police Chief Christopher Howell said Friday.
"Some of our recent homicides … were done in the course of robberies, where getting gold was part of the motive," Howell said at a press conference at Police headquarters in Frederiksted Friday. Gold prices have generally increased, and the business of buying and selling gold has expanded. "In the last few weeks, the number of businesses licensed to buy and sell gold has nearly tripled," Howell said.
While those are all licensed, legal businesses, once licensed, dealers still must adhere to the V.I. code, he said. Dealers have to determine if the person has acquired the gold by legitimate means. A record of the transaction, with a photograph of the item, details about the name, address, phone number and description of the seller, and a copy of the seller's identification must be included or the sale is illegal, he said. And once the purchase is made, the gold dealer has to hold onto the gold for 10 days before selling or melting it down, he said.
"There are a growing number of illegal, unlicensed dealers out there, too," he said. "If they do not ask you to fill out a form or to provide a copy of your identification, they are illegal businesses; and we want to hear about it. We will fine them and prosecute them to the fullest extent of the law."
Over the past week, police have visited all but one licensed gold dealer, he said. "That one is being visited as we speak," he said. "I've assigned two of my best officers" to focus on gold dealers, he said.
No one has been arrested recently, but Howell recalled an incident two years ago in which a person was arrested trying to take contraband out of the territory. "It turned out it was gold," he said. "He had a package the size of a softball. It was worth about $60,000, so you can imagine with prices going up, it would be more now."
Gold prices have gone up over the past five years, with a sharp burst this past year, although not to the dramatic extent one would think from the expansion of television ads for gold or from the explosion of cash-for-gold businesses in the territory. It is down over its peak of several months ago. Controlling for inflation, gold hit its peak price in 1981. It currently sells for about $1,100 an ounce on the New York Mercantile Exchange.
After Howell spoke, VIPD Public Information Officer Melody Rames urged residents to lower their chances of a robbery by following some safety tips:
–Don't wear a lot of jewelry or carry a large amount of cash;
–Don't walk alone; stay in well-lit areas, avoiding shortcuts, alleys, vacant lots and isolated areas where robbers can hide;
–Don't keep excessive amounts jewelry at home; open a safety deposit box and keep valuables there;
–Don't keep all your valuables in one location at home; robbers often go directly to the bedroom first;
–Photograph all your jewelry and valuables and store the photos someplace other than on your computer; and
–When driving, keep the doors locked and the windows up. Park in well-lit areas and observe your surroundings.
"Don't support illegal activities," she said. "If you buy something on the street, and don't get a receipt, you are buying stolen property. And buying illegal drugs involves you in criminal activity, which encourages more crime that hurts you and your neighbors."
If you are robbed, don't resist or try to be a hero, she said. "Give up your property, not your life," she suggested.
If you know of anyone illegally buying or selling gold, call the Criminal Investigation Bureau at 712-6077 or Crime Stoppers USVI at 1-800-222-TIPS.