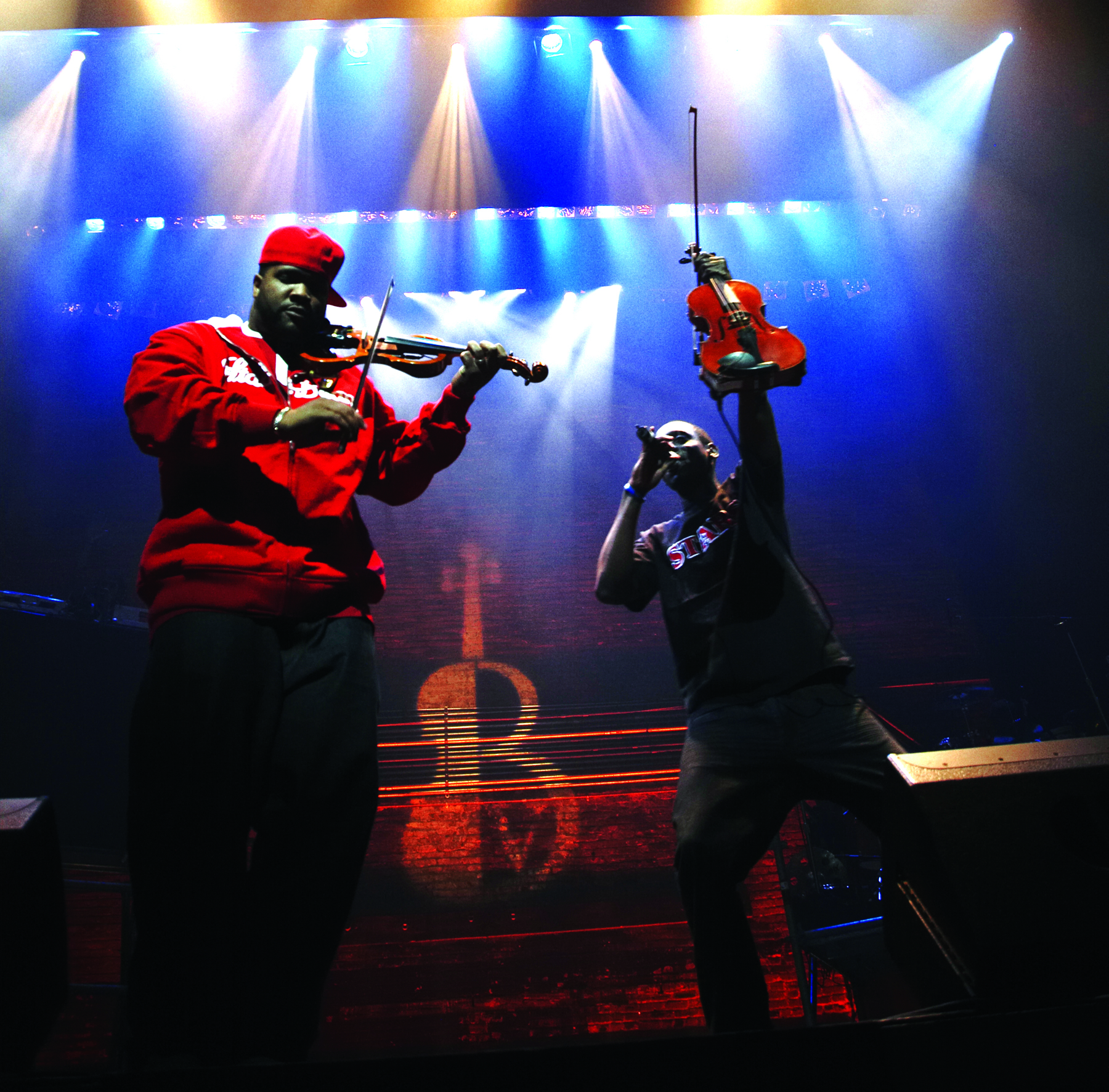 When seriously trained classical violinists take on hip-hop, you get a genre of music that won't be defined by rules—be it old-school hip-hop or classical—and opens up a whole new way of thinking about music.
The territory's residents will have a chance to hear Black Violin's music at Island Center for the Performing Arts on St. Croix on Friday and at the Reichhold Center for the Arts on Saturday.
Black Violin was born when Will B and Kev Marcus introduced hip-hop to their classical violin training. While listeners hear a new and adeptly-controlled power and depth of sound that takes them beyond their expectations, their eyes also are absorbing data not usually associated with classical music.
"Its almost like 'What am I seeing?'" Will B said of his observation of audience reactions. "'Here are two black guys of a pretty good size'… I thought violin was meant for classical.' That is the face I see, particularly with more mature audiences."
Will B explained the way the performance captures the audience's attention.
B and Marcus play songs that audiences have heard by Alicia Keys, and other household names, as well as Shostakovich, Bach, Nas and Jay-Z.
"We play the songs that you hear on the radio," Will B said. "Then we put the two worlds together and after five minutes – we've got you."
Black Violin was chosen for its wide appeal for a performance that families can enjoy together, according to Reichhold Marketing Manager Karen Gutloff.
"It's a performance that is going to be memorable," Gutloff said. "We've never seen classical instruments played in such a way with so much energy and excitement that our young people will be captivated by it."
Will B hopes that audiences will get up and dance at the performances.
"It definitely wouldn't be a Black Violin concert if you would not dance and have a good time," he said. "Bring your kids and your grandmother, bring everybody. We are trying to portray that Black Violin is for any race, any gender, any age, anybody."
B's violin career began in the school lunchroom, while acting as the beat box at a table full of rappers. A teacher asked him "Why don't you stop doing that?" and then told how he played saxophone and got paid for it.
He like the idea so much that he signed up for band camp to learn to play the sax the next summer.
"They put me in the wrong class," B said. "They put me in the strings. I didn't even know what the strings were. I was wondering where was the brass, where was the saxophone. I picked up the viola and there was an instant connection."
He stuck with it with encouragement from his instructors.
"I had great teachers who told me 'You could be great,'" B said. "It was meant to be, and I thank God for that every single day."
Now B and Marcus are opening performances for hip-hop acts like Fat Joe, Akon, and the Wu-Tang Clan; performing as far away as Dubai, South Africa and Prague; and writing scores for "CSI New York" episodes. Their work has also included commercials featuring basketball greats Kobe Bryant and Lebron James.
Both B and Marcus have strong ties to the islands. B was born in the Bahamas, while performing in the territory is like a homecoming for Marcus, who spent many of his summers on St. Croix, his mother's home.
Recently the group released its first album. "We tried to make it as diverse as possible so it would appeal to anyone," B said. "The very first track starts off very classical and becomes very hip-hop."
The album is available on iTunes and other online outlets.
Black Violin's V.I. performances are sponsored by the V.I. Department of Education. With sponsorship from the V.I. Council on the Arts, the group will also perform workshops for over 400 students on St. Thomas and St. Croix.
Black Violin performs Friday night at 7 p.m. at Island Center on St. Croix. Tickets are available from Riddims in downtown Christiansted, Urban Threadz at Sunny Isle, Alliance Clothing in Fredericksted and the UVI bookstore. Tickest are $26, and $16.
On Saturday, Black Violin plays the Reichhold Center at 7 pm. Tickets are available at Urban Threadz in Havensight, V.I. Bridal and Tuxedo in Tutu Park Mall, Essentric's Shoe Boutique downtown, Home Again in Red Hook, the UVI bookstore and the Reichhold Center Box Office. 693-1559. Tickets are $26, $16, and $13.
For more information check out the Reichhold Center's website at www.reichholdcenter.com.
For more information about Black Violin, check out their website at http://www.blackviolin.net.