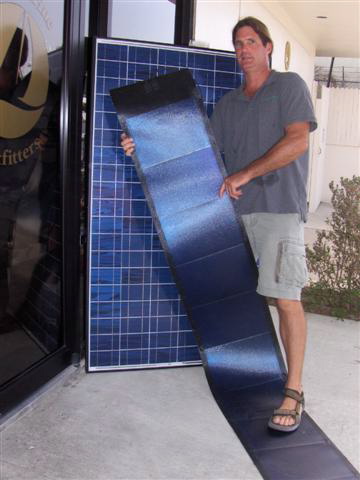 Robert Dinion is an entrepreneur for one season; the season in the sun. The energy is out there, he notes, you just need a system to capture it.
Dinion arrived on St. Thomas in 2006 with the idea of charter boating, but he found the business here more challenging and less rewarding than he had anticipated. So he turned to soaking up the sun in another way, storing it in solar panels to provide alternate energy solutions for the island.
The goal of EnergyAllOver.com., Dinion says, is to take a practical approach to getting alternative energy systems installed. He says the company is not about marketing "green" or trying to raise venture capital, but simply to make use of the available energy – the sun and wind – that is all around us.
Dinion is an enterprising fellow, engaging, about six feet tall, with an easy manner. He seems to have dropped into island life with little problem, exhibiting a flexibility useful for island living.
The decision to change horses midstream seems to have proved no real problem.
Dinion came to St. Thomas prepared to embark on a new lifestyle.
"I was a software developer in Washington, D.C." he says, "sitting behind a desk all day, 60 to 70 hours a week. It was time to leave. I sold my home and got out."
In January 2007, Dinion got his business license and training in solar energy, and opened up shop. About the business, he says with a tempered smile: "Volts times amps equal watts. That's all you have to know."
Well, not quite.
"One of the first things most people want to know," he says, "is how much money can I save, and how long will it take to pay off a solar energy system?"
Now, he warns, math is ahead.
"Simple," he says, "just the system watts times the insolation factor (a measure of solar radiation received in a given time over a given area) times the derating factor times the local cost of electricity in kilowatt hours, and divide the system cost by this and it will be your payback period in days."
"Or," he says – a big or – "around $50 a month on average for each 1,000 watts of installed panel for the straight Grid Tie systems or $45 a month for battery systems, assuming 33 cents a kilowatt, and 30 days in the month."
All this is described in detail on the website.
As we chat in a Crown Bay restaurant, a kibitzer approaches and asks, "Have you ever thought about thermal energy, harnessing the currents here"
Dinion smiles.
"Everybody has thought about that," he says, "but the environmental impact would be too great a concern."
When the passerby moves on, Dinion explains, "I've spent the last 30 years working with electric energy. I was the high school geek, working with HeathKit sets." He pauses. "I guess that dates me."
The current government rebate programs are a boon to local residents, according to Dinion. In fact, with oil prices likely to rise this summer, it becomes an even more economical investment. Don Buchanan, V.I. Energy office information specialist, says, "I think the best time to invest is right now, with the tax rebate and stimulus money available."
Dinion's website carries complete details of the rebate program, along with detailed information about getting "off the grid," from a simple stand-alone system to a commercial installation.
As we walk to nearby Island Marine where the panels are displayed, Dinion discusses the merits of the flex stick-on panels versus the slightly less expensive framed panels. He says the Uni Solar Photo Voltaic Solar Laminate (PVL) Modules, the stick-on panels, are the best technology for permanent Solar energy array installations for residential, commercial or utility of any scale from 200 watts to 20 megawatts,
"That adhesive is so strong," he says, pulling out a slender navy blue panel and rolling it out, "I would hang from a cliff on it. If a hurricane were to come, you would lose your roof before you'd lose the panels."
In fact, he says, if the V.I. Water and Power Authority were to mount the three-megawatt of panels on its water and fuel tanks at Krum Bay, "they could generate 15 megawatts of power, about one-fifth of all WAPA uses on St. Thomas."
At the Crown Bay marina, we bump into a few boating customers who have become friends.
"It took a few years," he says, "but now I'm famous." He laughs, "I'm now known around here as the 'solar guy.'"