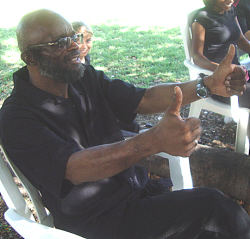 When Broadway musician and director Tim Graphenreed was first asked to come to St. Croix in 2001 to take part in a show, his reaction was, "Where?"
"Not enough people know anything about St. Croix," Graphenreed said, admitting he was one of them.
That has all changed. Since his first trip to St. Croix to take part in a production with Tony-winner Lillias White, Graphenreed has since become enmeshed in St. Croix life. The man who was musical director for the Broadway revival of "The Wiz" and arranged dances for five other Broadway shows, including the original production of "The Wiz," began directing musicals on the island, working with high school students in such shows as "Seussical," "Honk," and "Aida."
But he wanted to do more. Now, working with local teacher and historian J. David Moore, Graphenreed has written "Yesterday's Dreamers Tomorrow's Stars," a musical about the youth of St. Croix – both today and in the past. A number from the show was presented Saturday at the annual membership meeting of the St. Croix Landmarks Society, drawing enthusiastic applause from the audience.
The musical, which draws its 15-member cast from schools across the island, will be presented for a two-weekend run – its world premiere – beginning April 16 at Country Day School.
Graphenreed said he fell in love with St. Croix the first time he visited, and that something that "keeps people coming back" is part of the show. Whether it's music or mystery or magic, it's real to him.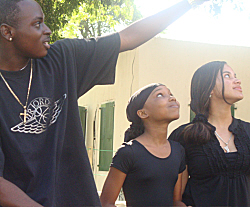 "I have the most fascinating dreams down here," he said. "I can smell the dreams, I can see in color. I don't have dreams like that back in New York."
Working with a young cast is demanding, but Graphenreed – a show business veteran of 36 years – said he doesn't pull any punches, doesn't accept anything but their best. And the students are learning "on the sly," picking up the keys to success even when they don't realize that's what's happening.
And those keys don't apply solely to show business, he added. They are fundamental.
"If you work at it hard enough and believe in it strong enough, you can succeed," he said. "The discipline it takes to do theater is the same disciple you need to succeed at anything in life."
Those lessons have rubbed off on its young cast. At least one member, Jovon Jacobs, 17, a senior at St. Joseph High School, is seriously considering a career in theater, applying to several colleges with strong music and theater programs.
"Yesterdays Dreamers Tomorrow's Stars" uses song, dance and dialogue to tell the story of a group of young people trying to form a music group. It draws on many aspects of the island's history and culture to bring them together. The number presented Saturday at the Landmarks Society's meeting managed to convey the history of St. Croix from its earliest inhabitants to the tourists who pour off the cruise ships – all in less than 10 minutes.