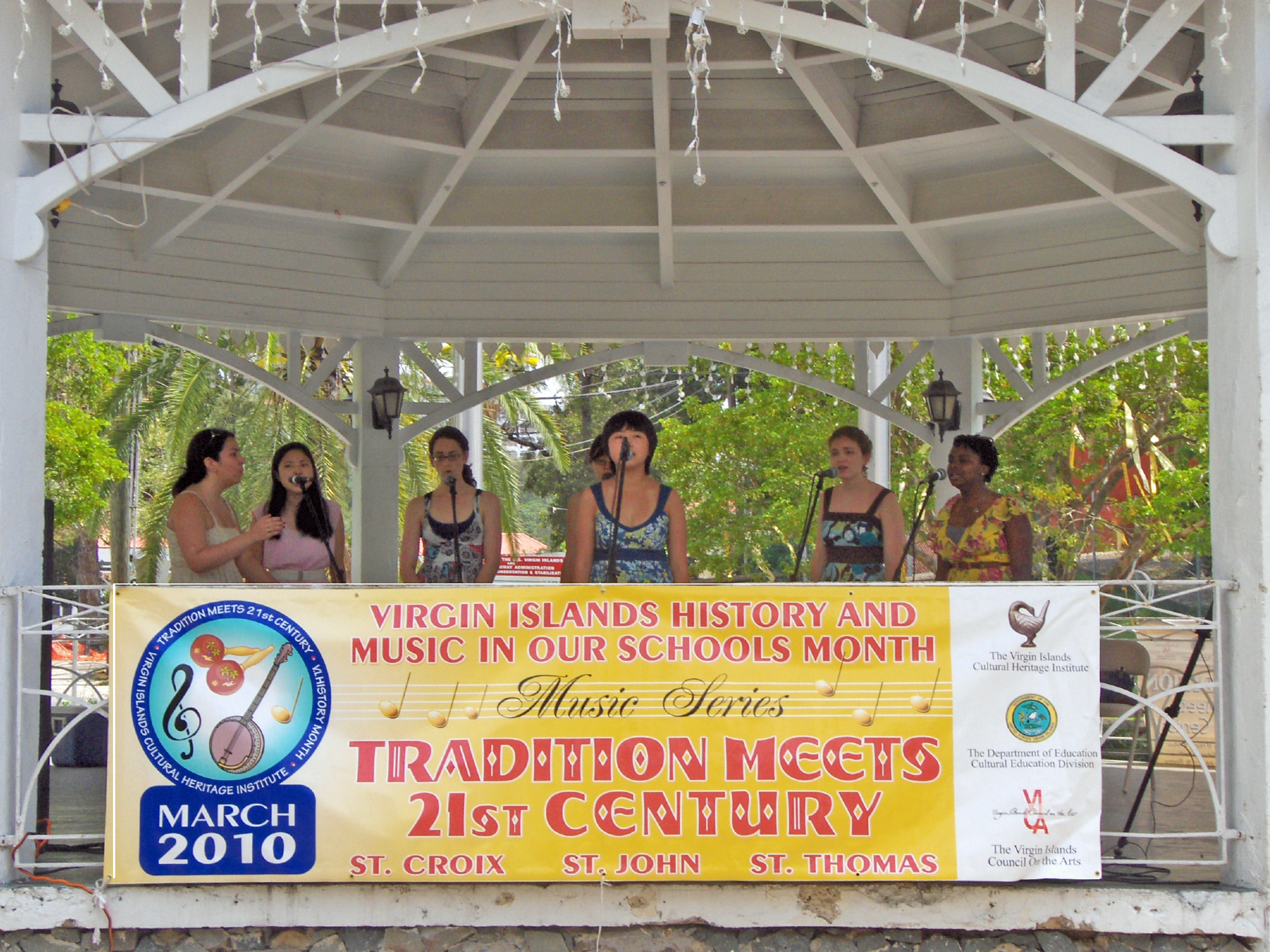 Imagine: you're shopping in downtown Charlotte Amalie; it's noon, it's hot. Suddenly, you hear the jazzy sounds of "Mood Indigo" ringing out from the Emancipation Garden gazebo. But it's not Duke Ellington's arrangement, and it's certainly not the vocal you'd expect.
On further inspection, it's seven prim and proper young ladies in their Sunday best dresses, looking for all the world like they just stepped out of a picture book.
They are the Princeton University Wildcats a capella choir, part of the fourth annual March Music Series program cerebrating V.I. History and Music in our Schools Month. This year's theme, said Myron Jackson, executive director of the V.I. Cultural Heritage Institute, is "Tradition Meets the 21st Century."
The young women sang everything from jazz to the sweet sounds of such classics as "Embraceable You" and "Angel Eyes," to a rousing rendition of the Beatles' "Here, There and Everywhere," with some Gershwin, Abba, and Crosby, Stills and Nash thrown in.
The girls mostly sang together, every so often offering a solo, backed by a bit of professional sounding doo wops and lots of grins.
The lunchtime crowd in the park could be said to be a bit sparse, but, it turns out, select. A couple gentlemen of the cloth seated comfortably on the back wall took in the performance with a knowledgeable ear, exchanging comments.
"They're great," said Pastor A. D. Cogneite, himself a guitarist. "Age doesn't matter."
"Yes, age matters," said Melrose B. M. LLoyd, who plays the guitar, bass, piano and sings. "I've been where they've been. With age, starting at 40 or 41, a voice becomes more balanced, more controlled and more acoustic, with more clarity and dissonance."
Cogneite said, "Age matters, I know, I'm saying for now they have a nice tone, balanced."
"They need a little more bass," countered LLoyd. "I took four years of music history from Miss Blanc at the College of the Virgin Islands. I know music."
Still, both gentlemen wore wide smiles throughout the exchange, their feet tapping.
Speaking briefly after the performance, the girls said they are actually 12 strong, but only seven could make the V.I. date. Group leader Becky Bae said the girls, all freshman and sophomores, have been practicing together for a few months.
The Wildcats were founded in 1987 by Collin Holbert, Class of '90, who arranged "Respect" by Aretha Franklin. Though they look like the picture of old-fashioned femininity in person, don't be fooled. They describe themselves on their website thusly: "Wildcats pride themselves on being strong, unique women with powerful voices. Not to mention, we're a super diverse group of really awesome women that can't be pushed around."
After the performance in a brief ceremony, organizers Jackson and Yvette Finch presented the group with a certificate of appreciation, after which Juel Anderson, DOE public relations director, and apparent den mother, herded them off to nearby Jen's Deli for lunch.
After performing for local schools this week – from Jane E. Tuitt Elementary and Antilles, to the University of the Virgin Islands – the Wildcats will get a chance to test their feline fangs Friday with the North Side crowd at the Hull Bay Hideaway. The performance is scheduled from 7:30 to 8:30 p.m.