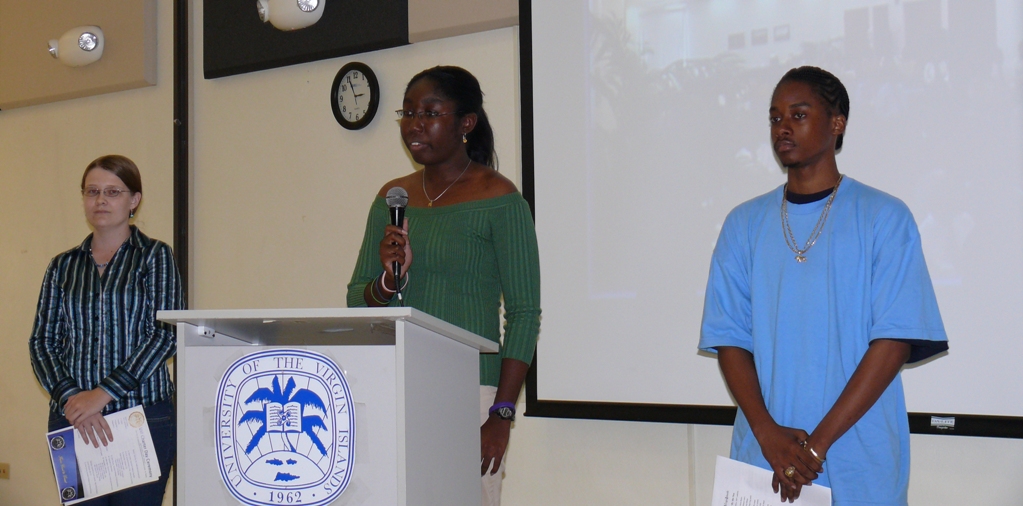 The University of the Virgin Islands heard from its newest students and honored past trustees Tuesday as it marked its 48th birthday with Charter Day ceremonies teleconferenced between its two insular campuses.
Speaking at his first Charter Day, David Hall, UVI's fifth president, said it was a "sacred day," of sorts.
"It was a day when many Virgin Islanders could walk tall and proud that they would have a place they could seek higher learning," he said. "Sons and daughters no longer would have to leave the territory to seek an education."
Some among those who strove to found UVI dreamed of an intellectual repository that would capture and preserve the history, culture and ideas of the U.S. Virgin Islands and the Caribbean, Hall said. "Some even had a dream this university could be a bridge to create a middle class, a professional class of strivers and achievers," he said.
At the time, there was no money, no land or buildings and no institutions, he said. But dreamers held fast and the university came about.
"Our founders demonstrated dreams are the foundation for changing reality," he said, encouraging a dream of the university becoming a bastion of higher learning for the entire Caribbean. Moving from the beginning of the university to its more recent past, Hall spoke of the contributions of the unpaid members of the UVI Board of Trustees, saying they gave the school a deep reservoir of expertise and experience upon which to draw.
"You would be amazed how valuable it is to have on your board people with legal, business and technical expertise," he said. "They give advice freely and they do all this out of goodness of heart."
Moving to the present and future, three new students spoke about why they chose UVI.
Cassandra Clifford, Kianna Harrigan and Trevoir Mapp all were born and raised in the territory, and each said being able to go to college without having to leave home made higher education more economically feasible.
"I'm proud to be the third generation of my family to go to college," said Clifford. As a senior in high school, she was choosing between a school in West Palm Beach, Fla. and UVI, and looking at the cost of moving, setting up an apartment and so forth helped her choose UVI, she said. "We all know what hard times these are," she said. "So it is good to know UVI can really help you stretch the dollar. And the teachers are always very accessible and helpful."
Mapp agreed professors were very open and accessible. He and Harrigan averred as well they wanted to attend an historically black college, making UVI that much more comfortable a fit.
"UVI is my second home," Harrigan said. "I spend more time here working on school projects and socializing than at my real home."
She is the first in her family to have progressed this far in college, she said.
Although Mapp said it was his first time speaking before a group, he spoke with confidence and authority, saying he planned to finish his bachelor's in psychology and then proceed to graduate school.
Closing out the ceremony, Alex Moorhead, chairman of UVI's board of trustees, thanked several individuals who recently completed service as members of the UVI Board of Trustees. The honorees were: Roy Jackson, Bernard Paiewonsky, Auguste Rimpel Jr., Audrey Thomas and Juanita Woods.
Jackson had been a member of the board since 1997 and also served as chair of the Finance and Budget Committee for 10 years. Paiewonsky, who had been on the board since 1996, served on the Development and Planning committees and served six years as chair of the Development Committee. Rimpel, who had been a member of the board since 1993, served as chair of the Board of Trustees beginning in 1997.
Thomas, who had been a member of the board since 2004, served on the Academic Research and Student Affairs Committee and on the Committee on Trustees. Woods had been a member of the board since 2003. She served on the Academic Research and Student Affairs Committee, chairing it for two years. Woods also served on the board's Development and Planning committees.