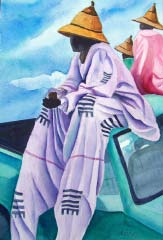 Art in the Garden, the St. George Village Botanical Garden's annual spring event, will feature an art exhibit and sale by The Palletteers of St. Croix on the weekend of March 27 and 28.
A fundraiser for the non-profit Botanical Garden, the festivities will open Saturday night with a cocktail reception in the Great Hall from 6-9 p.m. ($20). The hors d'oeuvres are traditionally home-made by the artists and SGVBG volunteers. Jazz violinist Brian Silber will provide musical background.
The show and sale will continue from 11 a.m. to 4 p.m. ($5) on Sunday, March 28, when there will also be displays by the Hibiscus, Orchid and Bonsai Societies. During the day, some Palletteers will demonstrate how "We paint St. Croix" right on the garden grounds. The original poster art by Carolyn Roblyer will be raffled off, as will two round-trip tickets to San Juan on Cape Air. Drinks and food catered by Good to Chew will be for sale.
The Palletteers is a group of women and a few men who get together year-round to paint en plein air (outdoors). They choose a different island location each week. This is the second year in a row they have been invited to produce the garden's art show.
The exhibit will feature 25 painters, who work mostly in watercolor but also in oil, acrylic and pastel. Their originals, which include studio work as well as plein air, sell for anywhere between $100 and $1000. Less expensive originals, prints and cards will also be for sale at an on-site "shop."
Exhibitors at Art in the Garden are Ginger Anderson (chairman), Diane Axelrod, Margaret Berggren, Mary Bodio, Sondra Catts, Phyllis Charles, Phebe Clarke, Karol Fenner, Janice Giles, Helen Green, Marcia Jameson, Elizabeth Keith, Kate Kroska, Marilyn May, Eleanor Miles, Kitty Olsen, Carol O'Toole, Jeanne Peil, Leslie Rickenbach, Carolyn Roblyer, Melinda Scott, Lil Tarby, Brenda Taylor, Emy Thomas and Alma Winkfield.