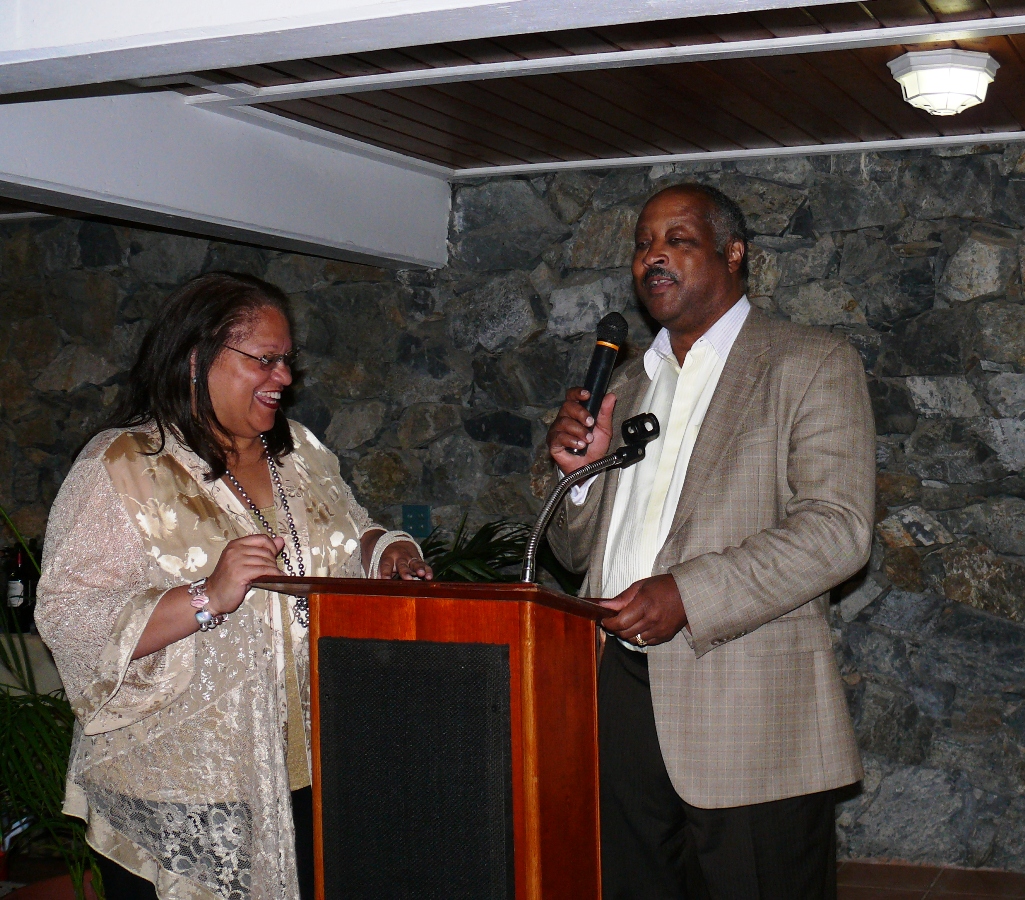 Before the U.S. Senate voted to keep desperately needed rum cover-over payments flowing undiminished to the territory, Harry Alford played a vital behind the scenes lobbying, St. Croix Chamber of Commerce President Scot McChain said at a Chamber reception last week.
The Chamber feted Alford, co-founder and president of the National Black Chamber of Commerce, Friday for his work on behalf of the territory at an evening reception at the Buccaneer Hotel. While the efforts of Gov. John deJongh Jr. and Delegate Donna Christensen have been amply recorded, Alford's role has heretofore gone largely unmentioned.
"As a small jurisdiction with a nonvoting delegate we are at a distinct disadvantage," McChain said. "That is where Harry Alford and his wife come in. They have curried a relationship to power they can wield. And Alford has worked with Sen. Majority Leader Harry Reid to preserve the rum cover-over unchanged." On March 10, the Senate passed the bill, rejecting an amendment proposed by Florida Sen. George LeMieux (R) that would have radically altered the way the funds are allocated between the two territories. Liquor giant Diageo is in the process of building a massive Captain Morgan rum distillery on St. Croix, financed with bonds backed by anticipated rum carry-over revenues.
"As a result of the rum cover-over deal, Diageo will be able to complete this fall," McChain said. "And let us not forget the environmental enhancements and increased production for the Cruzan Rum facility."
Cruzan Rum, owned by Fortune Brands, is in the midst of an expansion paid for by bonds backed by anticipated increased rum cover-over revenues brought in by the plant's increased future production. Both of the massive, ongoing St. Croix construction projects depend upon the cover-over remaining unchanged.
As co-founder of the NBCC, Alford has established himself as the nation's preeminent champion of African-American business empowerment and has built a global organization that has earned a place at the table in the White House and the top levels of corporate America.
He founded the organization in 1993, he said, after then-Indiana Gov. Evan Bayh asked him to work on increasing minority ownership of businesses in Indianapolis and statewide.
"At the time, less than half a percent of businesses were black owned," Alford said. "But 18 months later it had jumped to 6.5 percent, simply through competitive procurement."
Looking into the matter led Alford to ask himself why there was no organization specifically for black-owned businesses.
"Indianapolis had a Hispanic Chamber of Commerce," he said. "So I said wait a minute, the city has 230,000 black residents, why isn't there a black chamber?"
Within three weeks, the nascent group had 600 members. Now there are over 14 separate chapters throughout the United States, Canada, Africa and one even in Paris, France. Since then, Alford has become a go-to guy for organizing black businesses. After Hurricane Katrina struck New Orleans and the Gulf Coast, Alford said he spent 15 minutes with President George W. Bush and Karl Rove, after which $3 billion in contracts were signed.
"Entrepreneurship is the great equalizer," he said. "It's a good argument, and an argument I can win."
Kevin Callwood, a former chief of staff for V.I. Gov. Roy Schneider, who now lobbies in D.C. on behalf of the territory, brought the rum cover-over question to Alford last November, Alford said.
"To me, it seemed deJongh is trying to bring business to the territory," Alford said. "This [the LeMieux amendment] is just evil, I told him."
Alford approached Florida Sen. Bill Nelson (D), New Jersey Sen. Robert Menendez (D) and then Reid, to press the case, he said.
"You can be a political activist or a political victim," he said. "If you are not at the table, you will be on the menu."
A native of California, Alford has been responsible for opening doors that have led to billions of dollars in new business for black-owned firms throughout the nation, especially in the rebuilding of the Gulf Coast in the aftermath of Hurricane Katrina, according to a biography supplied by the St. Croix Chamber of Commerce. For his work, he was formally named a cultural ambassador by the U.S. State Department.
Alford began his career in the military. After earning top honors as company commander in the Army's officer candidate school, Alford held a series of key sales and executive positions at Fortune 100 companies such as Procter & Gamble, Johnson & Johnson and Sara Lee.
Alford has led large trade missions to Brazil, Ghana, Kenya and various nations in the Caribbean. Recently, he helped establish the French African Diaspora Chamber of Commerce in Paris, France. The birth and growth of the National Black Chamber of Commerce is in line with the growth of African-American-owned firms in the United States – listed by the U.S. Census Bureau as the fastest growing segment in the nation, according to statement from the St. Croix Chamber.
Alford is also an award-winning columnist for the National Newspaper Publishers Association and consults and speaks on business throughout the nation.