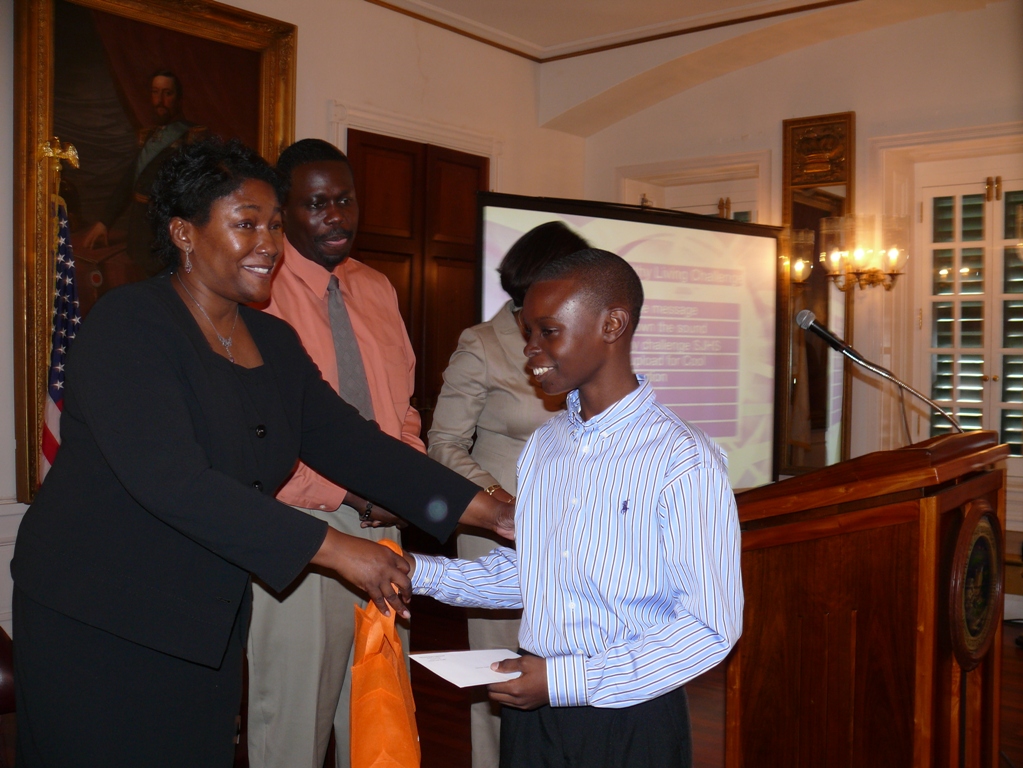 Three St. Croix schools took top honors in the Healthy V.I. Challenge video contest receiving checks, prizes and the praise of First Lady Cecile deJongh and high government officials at a ceremony in Government House on St. Croix Wednesday.
"St. Croix almost swept the field here," said deJongh, who founded the contest last year. "You should all be very proud."
The contest was part of the Healthy V.I. initiative, a two-pronged project of the first lady's aiming to raise awareness on healthy living among youth. Elementary school students also made garden projects inspired by U.S. First Lady Michelle Obama's White House garden.
"Michelle Obama has said in the last few days there is a crisis today in childhood obesity and diabetes," deJongh told the students at Wednesday's ceremony. "Children ages 11 and 12 are suffering from diabetes; a disease that used to be largely reserved for people approaching middle age. But if we start young helping children understand and learn to eat well, we can make a difference."
For the video challenge, students in grades 7–10, from public and private schools all over the territory, submitted 60-second public service announcements (PSAs) promoting healthy living choices. The videos were posted online at the Ourstage.com video-rating website, where residents cast their votes.
"Over 35,000 votes were cast online, showing there was a great interest in this," St. Croix Administrator Dodson James said.
A team from St. Croix's Central High School won first place for public schools with an anti-violence video titled "Get the Message," focused on anger management and finding positive alternatives to acting out with violence, such as writing down your feelings in a letter, song or poem.
St. Joseph's Catholic High School won first place for private and parochial schools with a video called "V.I." Healthy Choices."
Each member of the winning team received a check for $750, and the schools both got a giant novelty-sized check for $1,250.
A group of eighth- and ninth-grade students from Bertha C. Boschulte High School received second place for public schools with a video PSA entitled "Turn Down the Sound," which urged students to lower the volume when listening to music to avoid causing hearing loss. The BCB team was honored at a ceremony on St. Thomas Tuesday.
Kingshill High School won second place for private schools with a spot about gun violence, showing a drive-by shooting and the victim's near-death experience. Second-place winners got checks for $625 for the school and $375 for the team members.
DeJongh said she was inspired for the initiative by Jenny Sanford, the first lady of South Carolina, who held a similar video contest in that state. To share the students' messages with the rest of the territory, the winning videos will run consistently on government access and local PBS channels, she said.
After the ceremony, Kai and Kevin Moolenaar and Shaquille Thomas, three of the members of the St. Croix Central team, performed an a cappella song on violence. They will be competing later this year in the St. Croix Idol contest, they said.
Both kids and parents were enthused.
"Not only was it a great opportunity to make a video, but it was fun," said Thomas.
"It took us two weeks to make the video," said Kevin Moolenar, his twin brother Kai interrupting to say, "It was two weeks of laughter and fun."
The brothers are a singing duo calling themselves K-Factor.
Pedro Montes Sr., father of St. Croix Central team member Pedro Montes Jr., said the contest was a step in the right direction.
"It is a good, forward-type of thing for the kids," he said. "You have to try to stop the violence nowadays, so it was good, not just for my son but for how it could affect the other kids in the school in a positive way."
Winning team members included:
— St. Croix Central – Ikedo Forbes, Kai Moolenaar, Kevin Moolenaar, Pedro Montes, Shaquille Thomas, Sharon Prudoff and Principal Chermaine Hobson-Johnson;
— BCB – Aadillah George, Jamarie Ayala, Krystina Joseph, Keyan Francis, Ro'Niqua Henley and Carla Hampton;
— Kingshill – Abigail Vidale, Dale Donowa, Nora Santana, and Principal Janie Koopans;
— St. Joseph's – Verna Corbi, Enrique Arroyo and Principal Debra Skalkos.