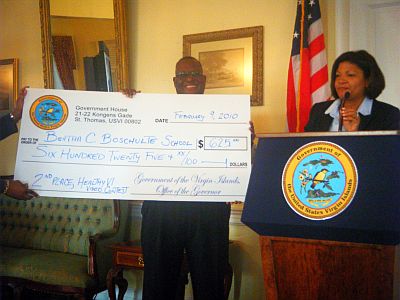 Calling the contest a huge success, government officials gathered on St. Thomas Tuesday to present cash awards and other prizes to Bertha C. Boschulte Middle School students who picked up second place in the Healthy V.I. Challenge.
Launched last year by First Lady Cecile deJongh, the challenge has two components — a video contest, where public and private schools across the territory submitted 60-second public service announcements (PSAs) promoting healthy living choices, and a garden project for elementary school students.
The video PSAs were posted on the web, and about 35,000 residents logged in to select the winners, St. Thomas-Water Island administrator Barbara Petersen explained during the award ceremonies held at Government House.
The first-place winner for the public schools this year were students from St. Croix's Central High School, whose anti-violence video focused on anger management and using positive solutions — such as talking to an adult or writing letters, songs and poems — to prevent fights. Each member of the winning team will receive a check for $750, while their school will receive $1,250.
A group of eighth- and ninth-grade students from BCB took second place for the public schools with a PSA entitled "Turn Down the Sound," which urged students to lower the volume when listening to music on the radio or portable devices with earphones, such as iPods. The video's message struck a chord with Assistant Education Commissioner Donna Frett-Gregory, who told students about a family member who became partially deaf because he listened to his music too loudly.
"It's a real thing," she said.
DeJongh was on hand to award each of the students a $375 check and their principal, Carver Farrow, a $625 check for the school. The BCB students included: Aadillah George, Jamarie Ayala, Krystina Joseph, Keyan Francis, Ro'Niqua Henley and Carla Hampton.
"I'm so happy that BCB won, because you all were so enthusiastic about the project," deJongh told the group Tuesday.
DeJongh said she had gotten the idea for the challenge from the first lady of South Carolina, Jenny Sanford, who did something similar in her own state. If students could get interested in the concept of healthy living and realize they could avoid having chronic diseases, such as diabetes and hypertension, their generation could grow up to be healthier than their parents, she said.
To share the students' messages with the rest of the territory, the winning videos will run consistently on government access and local PBS channels, deJongh announced.
"We're going to get your point of view across to the people of the Virgin Islands," she said to the group of smiling students and their parents, who applauded the announcement.
For the private and parochial schools, first place in the video contest went to St. Joseph's Catholic High School, while second place went to Kingshill High School, whose PSA showed how getting involved with drugs could lead to violence and even death.
"You may not get a second chance," the narrator said, as the video closed out with a shot of a bloody student, whose involvement with drugs led him down the wrong path.
A similar ceremony for the St. Croix winners will be held Wednesday at 3:30 p.m. at Government House on St. Croix.
Sponsoring the challenge this year were FirstBank V.I., Cartier and Hublot, deJongh said.