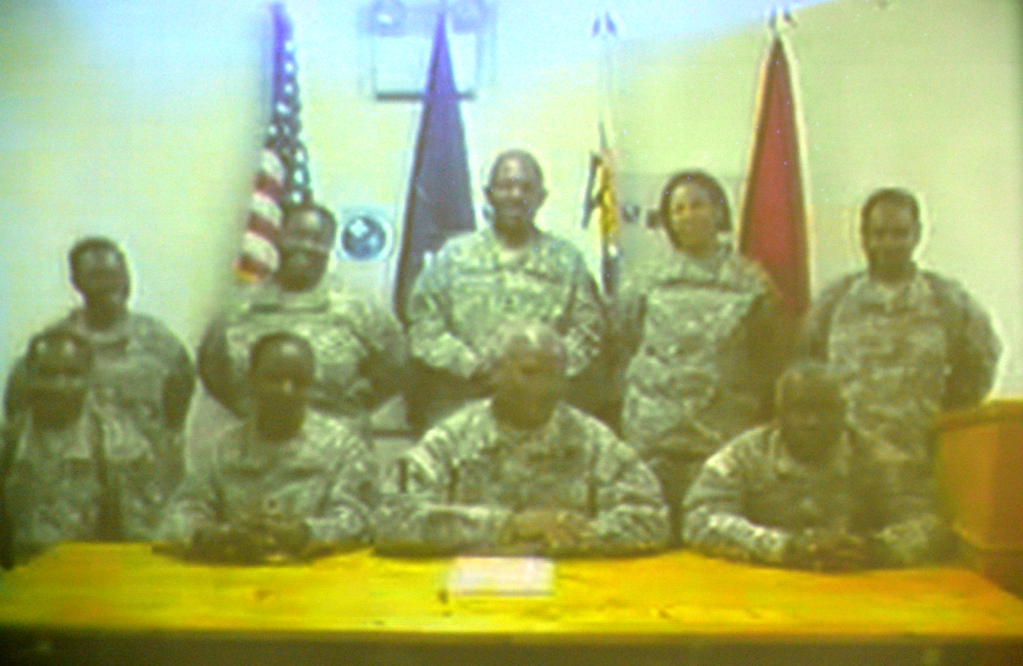 Helping to patrol streets, protect dignitaries and keep the peace in war-torn Kosovo, soldiers with the V.I. National Guard proudly shared their experiences Thursday through a live videoconference chat.
V.I. Adj. Gen. Renaldo Rivera and some top aides are visiting the troops of the guard's 661st MP Company at Kosovo's Camp Bondsteel to show their support for the peacekeeping mission. On Thursday, they pulled a few of the men and women aside for the videoconference to praise them and let them tell their stories to their neighbors back home.
"The 661st has done a yeoman's job. You know it used to be my unit," Rivera said. "Since I've been here, I can't tell you how often, when soldiers here see the Virgin Islands patch on my sleeve, they come up and tell me what a great job my men have been doing."
The unit, with about 100 of the territory's guardsmen and -women, has been deployed since August 2009. After extensive mission training at Camp Atterberry, Ind., they went to Hohenfels, Germany for yet more training.
Finally, they arrived in Kosovo, where they were blended into a joint, multinational brigade of about 2,000 soldiers. Their mission is currently law enforcement and protection. They patrol the streets, protect the base commander, protect visitors and dignitaries, serve as security, direct traffic, and even check for speeders with radar sometimes.
A disputed region in the Balkans between Serbia and Albania, Kosovo is mostly ethnic Albanian and is partially recognized as an independent state. It was part of Serbia, which still regards it as one of its provinces.
Civil war broke out after the fall of communism in the former Yugoslavia, and Kosovo's Albanians tried to form a separate state, much as Croatia and Bosnia had done previously. Violent conflict reigned for several years.
United Nations troops, including U.S. troops, have been in Kosovo since 1999, when the U.N. went in to keep the peace after a series of massacres of Kosovan civilians by the Serbians.
Fortunately, Kosovo has recently been quiet. "Everything has been stable, and we expect it to be even more stable," said Capt. Arthur Hector, commander of the 661st. "There have been no close calls, the area is safe and we expect it to continue."
Morale at Camp Bondsteel is good, thanks to support from family and friends back home—and to the internet. In past missions, soldiers would stand in line to use the phone to call home. But today in Kosovo, they can use laptops, the internet and Skype to make telephone and video calls back home during their off hours.
"In fact, when the internet goes down for 10 minutes, we kind of lose our minds," said Sgt. Bruce Flamon. Asked what living conditions were like, Flamon said it was not home, but they had a solid, tight-knit community.
"We have a lot of family-oriented projects, we have church services," he said. "I'm a member of a church and sing in the choir."
They also interact with the people of Kosovo every day, and relations are warm.
"They welcome us here," said Sgt. Jovani Roserie. "Very often someone will come up and pump their fist in support."
Roserie is the unit historian. Asked what sorts of things she has documented thus far, Roserie said the growth of unit cohesion was striking to her.
"When we first came here, we were blended into a single unit with soldiers from all over," she said. "At first you could see a slight division between the Virgin Islanders and the rest of the unit, but as the work went on, we truly became one unit working together."
Being far from home takes its toll, too, and not everything is easy.
"They drive on the right side of the road here," Flamon joked. "And when it snowed three or four inches, that took some getting used to."
To help pass the time when not working, soldiers take university classes online and undergo extra training, said Spc. Joy-ann Henry.
"Also, when I become homesick, I prepare a local dish," Henry said, noting her preference for "swordfish and doucana and curried chicken."
This is the third time in recent years the 661st has been deployed. Many of the unit's members have experience overseas in Guantanamo and Iraq.
It is cold and wintery now in Kosovo, a state not much favored by the V.I. soldiers. But there is light at the end of the tunnel for the soldiers.
"We should all be home by the end of August—and all in one piece," said Hector.
Photo info: (front row) Capt. Arthur Hector, Lt. Col. Deborah Lobbenmeier, Adj. Gen. Renaldo Rivera, Sgt. Major CSM Barry Fredericks; (back row) Sgt. Debra Davis, Spc. Joy-ann Henry, Sgt. Bruce Flamon, Sgt. Jovani Roserie, and Pfc. Pamella Khan.