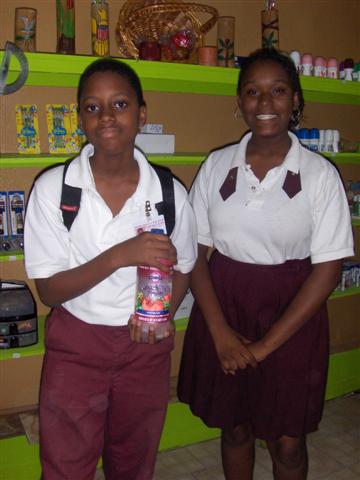 About two years ago, Wendy Diaz's seventh-graders at Addelita Cancryn Junior High School began selling a few school supplies out of the classroom. It was the first step in creating the small-but-burgeoning school store, which opened last month.
The classroom's sales, along with car washes and bake sales, netted the cash to start the new enterprise.
"We launched the store with a $2,500 inventory," says Diaz.
Longtime geography teacher, activist and resident gardener, Diaz conceived the store as a way to teach students the rudiments of business—and to make some money along the way.
The store is run by the after-school group Tshwane (which Diaz founded several years ago), along with mentors and help from the School Improvement Committee.
"It's a business," she says. And one that, in its infancy, is doing well. You might say, on a small scale, thriving on the combined energy of Diaz and her students.
In fact, getting into the on-campus store—situated in a small room, about 20 feet by 12 feet, just east of the cafeteria—can be a problem. To avail themselves of the store's riches, students often have to line up outside and wait their turn.
The store is open weekdays from 7 a.m. to 7:45 a.m., 11:15 a.m. to noon and from 3 p.m. to 4 p.m.
"It teaches the students how to manage the inventory, marketing, sales," Diaz says. "It teaches them respect for money. They run the very basic cash register, they make change, and they get hands-on experience. It gives them a voice in their future. The principles used in the store can be applied to any business."
In fact, the store has inspired a class to be included in the after-school curriculum. Set to start the first week in February, and meeting twice a week, the class is part of a Young Entrepreneurial Scholars program (YES), taught by Sinclaire Potter.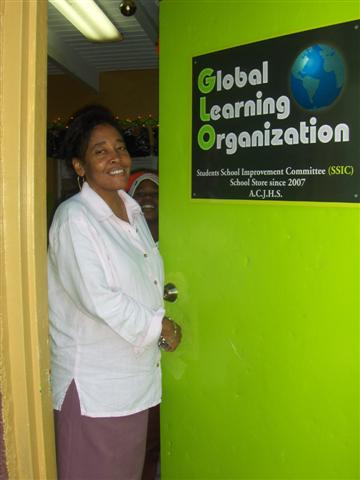 Over Christmas, Diaz says, the store did well (as expected) with Santa hats, candies and holiday goodies. However, it continues to thrive. "We did $160 one day," she says.
The store, which uses the small space wisely, stocks an amazing array of items ranging from school uniforms, book bags and bamboo pen holders made in woodworking class to school supplies, soft drinks, snacks and even fresh popcorn.
The store has the blessing of teachers, as well as the students. "We do have lots of the teachers, picking up class items," Diaz says. "We're thinking of designating a special time for their shopping."
Marketing has taken a strong hold on at least one young salesman. Last week, seventh-grader
Courtney Grell was extolling the virtues of a portable hand sanitizer, priced at just $5.99, which Diaz ordered with an eye toward the current flu season.
"Just look," Grell proclaimed, "you can hang it on your shirt. It can be refilled for only 25 cents. It will help you to feel healthy. Why, it's revolutionary."
A few days later, Grell's interest had zeroed in on something less healthy, but likely a better seller. "Here's the large bottle of flavored water," he says, "just the thing if you're thirsty. Really, you should think about it."
The students must fill out an employment application for store employment. Diaz sorts through them with a teacher's eye, "seeing who is really serious." About 15 students now take turns running the store, always under Diaz or a counselor's supervision. "They receive a small stipend for their labors" she says. And, as employees, they receive a 10 percent store discount.
"The profits will go into a bank account they will learn to manage as soon as they get enough ahead," Diaz says. Right now the money goes into replacing inventory.
They are working toward an exciting goal: a trip to the Kennedy Space Center in Orlando, Fla., in late April on Carnival school break. "It will conflict with Carnival, but I pointed out that Carnival is every year, the trip is special. We'll also visit different schools."
Diaz says she anticipates the trip will cost about $1,500 for each of the 10 students traveling. "We'll have fundraising activities, but there's other considerations, too," she says. Most recently, the students raised $230 selling the school's bright red halyards at $4.95 a pop, but the funds went to Haiti earthquake relief.
And there's something new on the horizon. The ever-innovative Diaz, who also founded the school's vegetable garden, says the store will branch out, so to speak.
"Come spring, we hope to sell our produce," she says.