During the fall semester, five scholars from University of the Virgin Islands Emerging Caribbean Scientists (ECS) program won awards at three different national conferences. Through different UVI programs, ECS students are provided with scholarships and financial support for research and study in science and mathematics. Cassandra Benjamin, a sophomore and applied mathematics major, worked with UVI professor Dr. Joseph Gaskin studying "Acceleration of Logarithmic Convergence." Benjamin won a prize at the Annual Undergraduate Research Symposium held at Universidad Metropolitana in Puerto Rico in September.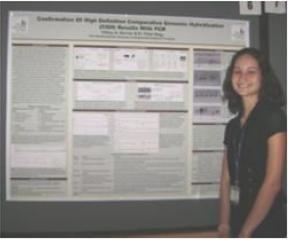 Tiffany Bernier, a senior and biology major, won first prize for her poster in biology at the annual Historically Black Colleges and Universities Undergraduate Conference held in Washington, D.C., in November. Bernier presented work she did while attending a summer program at the University of Iowa. The title of her poster was, "Confirmation of High Definition Comparative Genomic Hybridization Results with PCR." Her research aims to detect copy number changes in a patient that displays mild mental retardation, attention deficit hyperactivity disorder, oppositional defiant disorder, and other symptoms. Her research mentor at UVI is Dr. Alice Stanford.
Troi Williams won a first prize for his poster in computer science at the HBCU-UP conference held in Washington, D.C. With guidance from UVI Computer Science Professor, Dr. Marc Boumedine, Williams programmed the Tabu Search Algorithm to determine the optimal gate assignments at Cyril E. King Airport, U.S. Virgin Islands. This semester, he is using object-oriented programming to enhance the algorithm for implementation at other airports.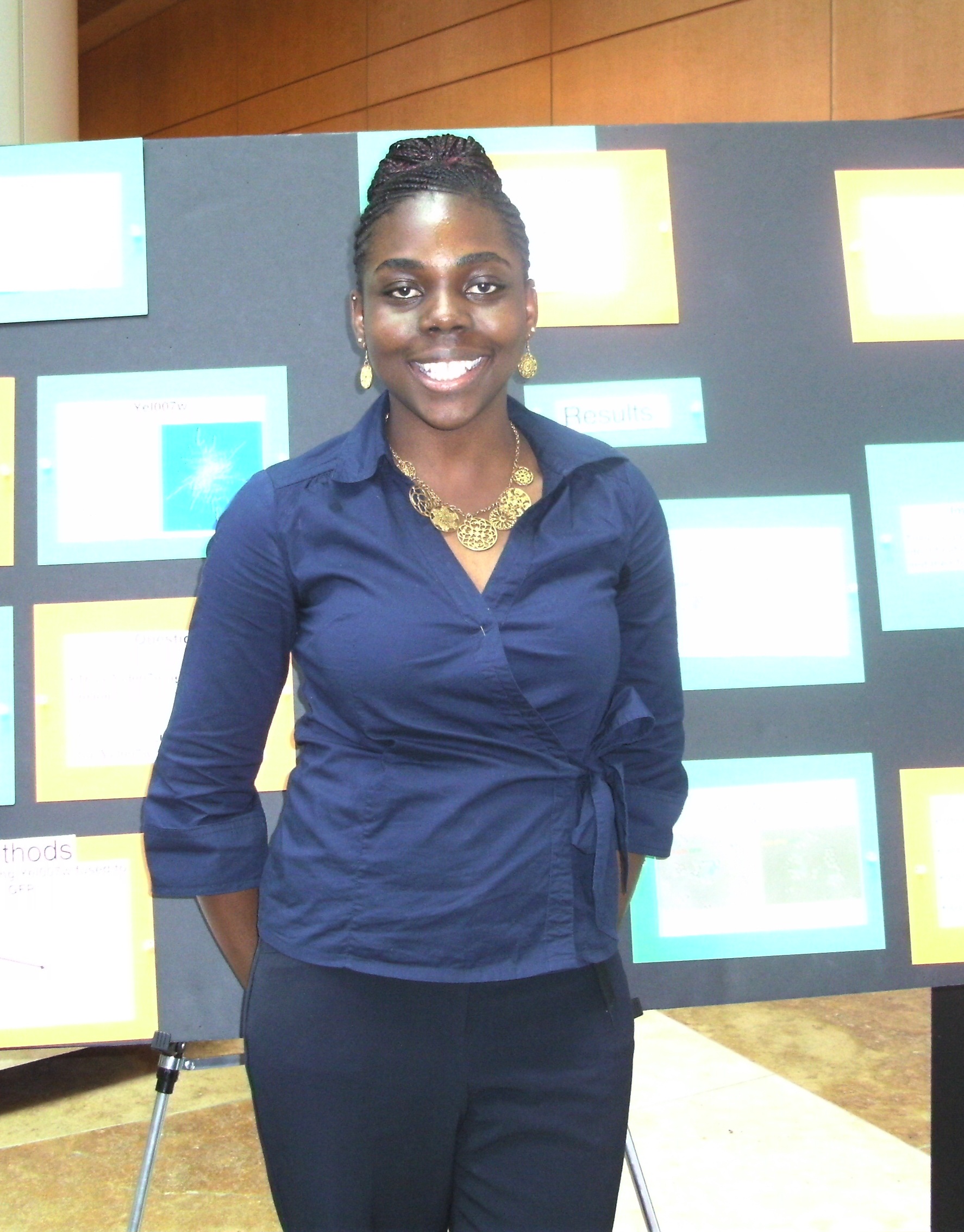 Cherissre Tyrell-Boateng, a senior and a biology major, conducted research in the summer at the University of California, San Francisco Summer Research Training Program. She won a best poster award in microbiology and cell biology at the Annual Biomedical Research Conference for Minority Students (ABRCMS) in Phoenix, Arizona. The title of her work was "Can a Conserved Regulator for Fungal Morphology Propagate as a Prion?" Her current mentor is UVI professor Dr. Sandra Romano.
Shellese Cannonier, a junior and a biology major, also won a best poster award at ABRCMS in Phoenix. Cannonier conducted research in the summer at the University of Maryland, Baltimore County. Her work was in the area of microbiology and cell biology. She is also currently working with Dr. Sandra Romano at UVI.
The mission of ECS is to increase research training and promote excellence for STEM (science, technology, engineering, and mathematics) and psychology students at UVI. Through annual scholarships, training programs, and summer research programs students work closely with research mentors and attain the necessary skills to be competitive on the national level.
The Emerging Caribbean Scientists program is currently accepting applications from students majoring in science, mathematics and psychology for its next round of scholars. Funding opportunities are for summer, 2010, and the academic year beginning in fall, 2010.
Summer programs include:
Summer Sophomore Research Institute (SSRI) – funding primarily for rising sophomores and rising juniors to participate in research and attend workshops. On-campus housing is available for SSRI participants.
Summer Undergraduate Research Experience (SURE) – funding research with a faculty mentor.
The Mathematics Behind the Science bridge program, in which incoming freshmen explore the mathematics behind scientific applications and acquire the skills to succeed in a university calculus course, a foundation for success in advanced study of the sciences.
Additionally, there will be funding for outstanding students for the next academic year. These include programs providing research training that promote excellence in careers leading to a Ph.D. in biomedical fields, psychology, computer science, mathematics and chemistry.
Emerging Caribbean Scholars (ECS) applications for summer research programs and academic year research training programs are due on March 1. The applications for the summer outreach and enrichment programs are due May 15. To obtain applications and more information related to the programs, visit the ECS Web site
ecs.uvi.edu/
or call the Division of Science and Mathematics Emerging Caribbean Scholars Program at 693-1232, or e-mail
ecs@uvi.edu