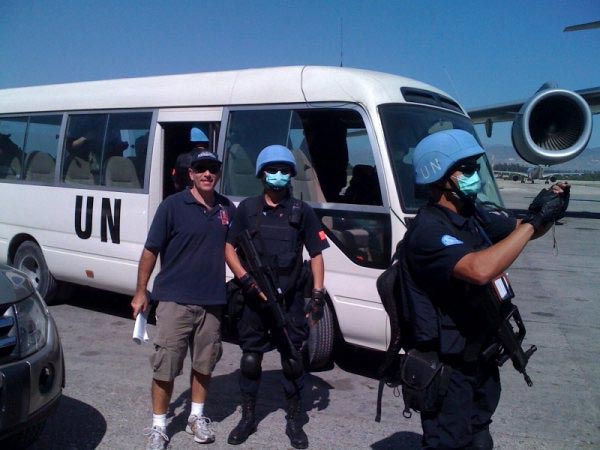 Local physician Dr. Adam Shapiro flew his Beechcraft turboprop into St. Thomas Monday afternoon with a tired but triumphant trio of Virgin Islanders who have spent the last three days tending the wounded of Haitian earthquake.
It's been an incredible five days for the doctor and his passengers, three of the 12-member team of the V.I. Haitian Medical and Children's Relief Trip. (See links at story's end for more info about the relief effort.)
Shapiro, who is a licensed pilot, is modest about his part in the logistics of the effort. Last Thursday St. Thomas resident Carmen Partridge called him with an idea about helping the earthquake victims. "I sort of helped get the ball rolling," he said.
"We had a meeting of the medical staff at the hospital Friday," said Shapiro, who is also the principal behind V.I. Ear Nose and Throat Clinic on St. Thomas. "I just mentioned it, and people immediately volunteered. They really wanted to do something to help," he said.
"In fact," Shapiro said, "we raised $10,000; $5,000 for the Red Cross and $5,000 for Doctors without Borders. The hospital has been very generous, not just donating supplies, but helping put them together, in an organized way."
Shapiro flew to Port-au-Prince Monday morning with supplies and to deliver team members Dr. Frank Odlum, a surgeon, and Debra Maddox, an operating room charge nurse, to help tend to earthquake victims.
Shapiro said, "Doctors taking a couple days is a drop in the bucket out of our lives. It's the right thing to do."
Shapiro said he will likely go back as a doctor, and not a pilot. "I'll go in a medical capacity, so I'll need a ride," he said.
Haiti was something he'd never seen before. "The whole world is in Haiti now," he said. "Everyone on the planet, the whole world, feels compelled to send relief to help those poor people. The airport is probably the most crowded on the planet – the Turkish Air Force, the Brazilian Air Force, China, Italy, and then there's a gazillion U.N. workers in the blue hats. It's very well mobilized."
He said the airport is extremely secure. "The U.S. is completely at the central of the operation. I had a landing slot at 10 a.m., 20 minutes to turn around," he said. "At first, I had to look for the women. They'd been detained in town. We left on time. If you don't, there's no way to land again today. That's it."
Speaking of his arrival, Shapiro said the stench at the airport was "overwhelming."
"Even though, it's not in Port-au-Prince, it's pungent," he said.
Thinking it over, Shapiro added, "It's not what you want to do, but it's a good feeling knowing you've helped."