Dr. ChenziRa Davis Kahina of the Per Ankh community organization is well known on St. Croix as "Dr. Chen" for her years of tirelessly promoting the spiritual and cultural connections between Caribbean and African people, heritage, exposing youth to traditional art, dance, healing and an alternative spiritual path.
Her journey has taken her from the Caribbean to the U.S., to Africa and back to the Caribbean. Born in San Pedro de Macoris, Dominican Republic, she moved to the U.S. as a child, finishing grammar school, high school and college there. The path she has taken has been defined in no small measure by a pursuit of roots and origins; genealogically, ethnically, culturally and spiritually.
She began her college career in New Jersey, at Montclair State University, transferring to Rutgers, where she received dual degrees in English and education. While finishing her studies and doing some teaching at Rutgers, she began to explore an interest in the arts and theater. Wanting to explore her African roots, she first did theater at Crossroads, in New Brunswick, NJ.
"Crossroads was one the first professional black theaters in New Jersey, and I'm blessed to have had the privilege of working with them," Kahina said.
Also in New Brunswick, about the same time, she worked in the Black Gold Theatre Co. with acclaimed poet, playwright and actor Hassan Salim, and gained some experience in off-Broadway theater work. Both theater groups explored African culture and connections.
She continued to pursue higher education on one track and her roots and culture on her own.
"I did some traveling then to the (African) continent and was inspired," she said. "The society there seemed more natural, especially mothers."
To explore that inspiration, she became certified as a midwife, doing work in that field in Africa and Central America.
Not long after, she went to Pepperdine University in California for graduate study in education technology and administration. From there, she received a fellowship at University of California at San Diego, studying sociology, with a specialization in cognitive science. While pursuing her doctorate there, she started getting into naturopathy, natural health and osteopathy. When done, she went to Burkina Faso, West Africa, and interned in the administration of Thomas Sankara, working in education planning and health care.
"It was like the Peace Corps, West African Style," she said. "They had me working to set up irrigation. It was a wonderful experience to help people recover their land and culture and all that comes with it."
Throughout all of this, she was doing poetry and dance, getting involved with the Diamano Cour dance company in Oakland, CA, where she was exposed to Senegalese dance and traditional African theater.
All of these elements came together when she began teaching with an alternative school called Children's Space, and established a satellite on St. Croix in the mid-1980s. She and several others came over to help with the satellite. Coming back to the Caribbean, she found she had wider roots in the region than she realized. Her relatives told her she had a grandparent who worked in the Virgin Island, which prompted her to see if she had any family here.
"I found out I had some maternal relatives, some Thomases and Davises who were all over St. Thomas and Tortolla, which I had never known," she said. "Most of my relatives spoke Spanish. But I found we definitely are a kallaloo family, with roots and branches all the way to Curacao at least. I found my father had some Carib lineage, which made me feel a deeper tie to the native Amerindians."
Looking more, she found ties to Martinique and Guadeloupe.
"That is part of why I'm here," she said. "Here you meet people from everywhere."
Finding she felt at home and looking for a sense of community influenced her decision to move to St. Croix.
"And I desired my children be raised in a tropical climate and a place they could really grow as children."
It was here she met "a wonderful husband," Carl Christopher, started raising a family and began her involvement in Per Ankh, which she describes as an extension of all her experiences.
Per Ankh, meaning "house of life" in ancient Egyptian, came out of work Christopher had been doing with scholars from all over, she said. The goal was to establish Per Ankh spiritual and cultural houses around the world.
"The concept was really one my husband conceived back in the early '70s because of his training in spirituality, agriculture, community building and the sciences," she said.
The nonprofit community organization strives to be an educational, cultural, artistic, holistic wellness and spiritual retreat center, looking to ancient Egypt and traditional African religions for guidance.
By 1989, the concept was in place and they began doing work with youth; educational, agricultural, martial arts, dance and drumming programs – and calling them Per Ankhs. But Hurricane Hugo came that year, forcing more mundane issues of survival to the fore for a few years, and it wasn't until 1995 that they filed the paperwork and became registered as a 501c3 nonprofit organization.
Per Ankh does work with women and troubled youth, and sponsors an array of programs and seminars. They have been building ties with similar organizations on other Caribbean Islands, in the U.S. and in Africa, in Ghana, Zaire, Burkina Faso and other places. On St. Croix they work with other organization, from St. Croix Landmarks Society to V.I. Farmers in Action, wherever their missions overlap, to further sustainable development, academic, technical, cultural and spiritual literacy. She and Christopher teach drumming and traditional African dance. Recently Christopher began the Nefer Aha Uat Never Aha Aauie Te martial arts school, based on a traditional African martial arts system. Christopher also does sustainable building with natural materials and works with sustainable agriculture.
Saturdays at noon and on special occasions the Per Ankh Neteru Ankhsamble drummers and dancers can be seen at the Eliza McBean clock tower performing.
"We like to have children exposed to as much as possible, to have as much positive change in their lives and to be the most productive,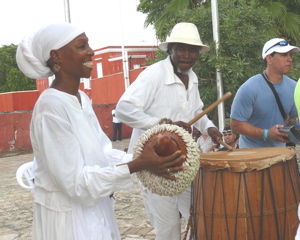 proactive citizens wherever they live," she said. "It's been wonderful to be in the community in positive uplifting ways."
Per Ankh holds seminars and workshops on all the aforementioned subjects and many others, ranging from historical and cultural enactments to vegan cooking. Kahina is also the new project director for a U.S. Department of Health and Human Services' Office of Women's Health initiative through Per Ankh, called "NuWomanRising."
Those seeking more information can visit the group's website, send e-mail to perankh@gmail.com or call the Per Ankh Holistic Retreat SaAnkhTuary at 340-772-ANKH (2654).