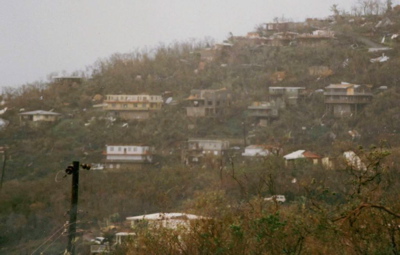 It was the very worst of times, but the best of times too, as neighbors helped neighbors survive the aftermath of Hurricane Hugo.
Twenty years have passed since that Sept. 17 and 18, 1989, disaster stunned the Virgin Islands with its ferocity.
When the final price tag was tallied, published reports put the bill at $500 million worth of damage for the private sector and $435 million for the local government. While reports of the number dead vary widely even today, published accounts indicate that anywhere from two to five people on St. Croix died from causes directly related to the hurricane. A St. John physician said three boaters died on that island.
St. Croix was hit the hardest, with more than 90 percent of homes destroyed or damaged. St. Thomas and St. John buildings were also damaged and destroyed, but the numbers were not as high as on St. Croix. More than 700 of the territory's recreational boats were lost or damaged.
That September started out like any other. It was long before the Internet with its 24/7 weather news and cable TV carrying The Weather Channel was still a rarity. The weather was hot, yes, and residents knew it was hurricane season. In those days we still observed Hurricane Supplication day in July and Hurricane Thanksgiving Day in October, but it had been 10 years since Hurricanes David and Frederick hit the territory. There had been a scare in early August when Hurricane Dean threatened, but the storm veered north, and everyone went back to business as usual.
It wasn't until the day before Hugo was to hit that most residents got word that a storm packing 150-mph an hour winds was on its way. Later, some people put the winds at over 200 mph.
Except on older homes with massive wooden doors, hurricane shutters weren't the norm. Residents scrambled to buy plywood to cover their windows and doors and to stock up on flashlights, batteries, and non-perishable food. For many, their efforts went for naught when their homes blew away around them.
As if it were yesterday
Even 20 years later, those that were here for that horrible event tell stories so vivid it was as if it had happened yesterday.
"In the middle of the storm we could feel the roof trying to pop, the pressure trying to force the roof off, like when you feel the pressure flying in a jet airliner. And I said no, no, we have to do something so we opened up the doors. So water and wind came in but we ended up being one of the fortunate ones who didn't lose their roof," says St. Croix resident Carl Christopher.
St. Croix resident George Flores saw roofs starting to fly off around 6 p.m., but as the night progressed, things got worse.
"It was really roaring. I have been in a lot of hurricanes and I've never seen anything like Hugo. It was real scary," Flores says.
Flores and a friend went outside as the eye passed over to nail up the plywood that had come lose and to shift plywood pieces from the south end of the house to west to protect that side when the wind came around.
"As we took out our hammers and took all the plywood down, I saw a rafter, about 16 feet long, a three-by-six-inch beam with concrete at one end stuck through one of my windows," Flores recalls.
When the winds died down just a bit and dawn came, residents ventured out to find what looked like a bomb explosion. The trees still standing were stripped of their leaves, galvanized roofing was wrapped around telephone poles, homes had had walls ripped away with what was left of the family possessions in plain sight. Piles of wood were all that was left of many houses. Twisted steel frames were all that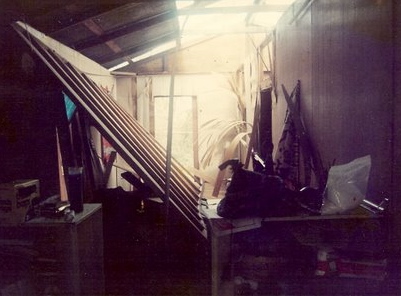 remained of some large commercial buildings. Boats littered the waterfronts. Planes lay twisted and tangled at the territory's airports. A couple hundred prisoners had escaped from the damaged Golden Grove Correctional Facility on St. Croix.
"There was cable all over the ground. The pole carrying power to my house was broken into three pieces. Sheets of galvanized that had flown through the air went through one sheet of the plywood I had put up and stuck in there so there was no way to pull it out," Flores says. "At the south end, a two-by-four went through my roof. And outside in the yard I saw another two-by-four stuck right into a coconut tree. Practically all the coconut trees were on the ground. I saw total disaster all around, like it had been burned or a bomb had gone off. Then we went into Williams Delight. We saw houses ruined left and right. There was a two-story house with the top floor all gone, picked up and thrown down on the ground."
St. Croix resident Chenzira Kahina was reluctant to take up a neighbor's offer of shelter for her family, but as the winds started to blow, he convinced her that she wouldn't be safe in her house. It was the right decision.
Peering out the window as the storm wreaked havoc, Kahina couldn't believe what she saw.
"We watched a couple people running outside," she says. "I don't think they consciously wanted to go out, I think their home fell apart. We saw them running and getting knocked about by flying sheets of galvanized. We saw little mini tornadoes spinning, going west from Glynn toward, I think Mon Bijou, spinning all through the gut nearby. People's septic tanks burst and the gut was like a cesspool. It was crazy, seeing all those trees, big strong trees bent over and snapped. Vehicles and objects, anything that could move was like a projectile. That was the most frightening part."
After a few days, she and her children returned home to find the entire roof had collapsed.
Rain continued for more than a week, making recovery even more difficult. And Hugo sped on to devastate Charleston, S.C., which turned the nation's attention to a spot closer to home.
'We Survived'
Still there was optimism that the territory would get through this catastrophe. The front page of the Sept. 20 V.I. Daily News screamed "We Survived."
Survival yes, but with the power out, no telephone, only the barest of communication among the islands, and lives turned upside down, shock set in.
"It was very trying for a time," Christopher recalls. "A lot of people were trying to leave the island, even native people. Families and friends all stayed together and worked in harmony to prepare for survival. After a few days, people's families on St. Thomas and other places started sending food, water, medicine and so forth over by boat to St. Croix because they didn't have as much damage over there."
Worse was yet to come. While there was plenty of looting on St. Thomas, St. Croix bore the brunt of it. Witnesses reported that police officers and V.I. National Guard soldiers were among those walking off with televisions, refrigerators and food.
"When we went to the supermarket, everything was gone," Christopher says. "But we had stores of beans and grains, and we gathered a lot of coconuts and other fruits from the trees. So we sprouted the beans and had a lot of salads of sprouts. For two weeks our dogs ate only our leftovers and lots of hard coconut, from all the ones knocked to the ground. And we had fresh water from Creque Dam stream, so we could drink, wash clothes and bathe. But we didn't have any power at all for awhile. A week or so after, we got a generator and were able to survive."
Eventually, former President George H.W. Bush sent troops to quell the looting. By Sept. 21, they had landed on St. Croix. Pictures of supermarket owners with guns in their hands to defend their businesses went round the world with the word anarchy in many of the headlines.
The late Gov. Alexander Farrelly took a lot of criticism over his handling of the Hugo disaster. Help was slow to arrive, and in particular, St. Croix residents complained they were forgotten. While the government and residents have learned many lessons in hurricane preparedness since those dark days after Hugo, most residents would agree that the local government was not prepared to help with food, water, shelter, and safety.
Food and water was scarce in the days immediately after Hugo struck, and ice trucks were mobbed.
Some of the territory's medical facilities were so damaged they had to close. St. Croix Hospital, now the Gov. Juan Luis Hospital, and St. John's clinic were decimated. The staff on St. Croix shifted care to the Charles Harwood Hospital and to Deployable Medical System tents set up in the St. Croix Hospital parking lot. St. Thomas Hospital also got tents in its parking lot because the building was damaged.
St. John's clinic, now Myrah Keating Smith Community Health Center, lost its roof. Thanks to the generosity of manager Jim St. John, the Virgin Grand Hotel, now the Westin Resort and Villas, became an ad hoc medical facility. It also housed those who lost their homes, as well as emergency workers.
Dr. Elizabeth Barot was on duty that night. She says that because the clinic administrator, Sam Morch, knew the roof was vulnerable, she spent the night with other St. John residents at the Clarice Annex school shelter.
"Elderly people were looking out the window watching their houses being destroyed," Barot recalls.
Once the night was over, Barot and the clinic's staff became nomads. After spending the next night at the Morris De Castro clinic in Cruz Bay, they moved to the Virgin Grand, where they spent the next three months tending patients. Barot slept in a room upstairs. From the Virgin Grand, the staff moved to space at the V.I. National Park's headquarters in Cruz Bay.
"I delivered a baby there," Barot says.
Since there was no secure area at the makeshift facilities, Barot carried around the clinic's store of narcotic drugs in her backpack, she says.
Eventually Barot and the clinic crew moved back to Morris De Castro, where they remained until May 20, 1994, while the clinic was being rebuilt.
While times were tough on St. John after Hugo, Barot said she knew that things were much worse on St. Thomas and St. Croix. However, conditions on St. Thomas were so bad, Barot says, it was extremely difficult to get staff there to accept transport of dead bodies and mentally unstable people. With the clinic in ruins, St. John had no morgue.
As the days dragged on, the Federal Emergency Management Agency arrived with emergency supplies, including its blue tarps to cover roofless homes. Electrical crews arrived from the mainland to help the V.I. Water and Power Authority rebuild its generating system.
Terrible Toll on Tourism
The toll on the territory's tourism industry was terrible. The hotels took bad hits and had no rooms for guests. In the many months after the storm, the few available hotels rooms went to emergency workers sent in to help. And those photos of looting didn't help matters with would-be tourists.
Those tourists in the territory when the hurricane hit were stranded for days because the airports were so damaged planes couldn't fly in or out. Eventually, the military helped airlift some out on cargo planes. More than a week after the storm passed, others were stilling waiting hours in long lines at the airports in hopes of getting a flight out.
The Rev. Jesse Jackson visited in the second week following the storm to investigate. Marilyn Quayle, wife of Vice-president Dan Quayle, and seven members of the U.S. House of Representatives visited.
But once the tourists and the honchos were gone, residents were left to cope with the heat, the mosquitoes, the darkness, and long lines for every service. Many lived in shelters for months. Government workers didn't go back to work until Oct. 2. Public schools were closed for many weeks. It was months, well into the next year at many locations, before WAPA got the electricity back on.
With no cable television to provide entertainment, curfews in place in an attempt to stop those bent on nefarious deeds, and residents spending night after night with only candles and lanterns to keep the darkness at bay, life in Hugo's aftermath dragged on and on. There was a positive side, however.
"With no television, families became closer. People sat around telling stories instead of watching TV. For a while anyway," Christopher says. "After a bit, there were generators rumbling everywhere, but before that there was a lot of old school family time that you don't see much anymore."
"Thank God for Life'
On St. Thomas, Hook, Line and Sinker owner Ted Luscz and his family spent the night Hugo hit with friends, J.C. Lannigan and his family, in a concrete house with a generator because his house was made of wood.
"The next day I went to our restaurant, surveyed the damage, cleaned the best I could and then took all food and wine I could find and, at sundown, headed back to the Northside. I was feeling low, dirty, didn't know what the future held for my small family and our extended family at the restaurant," Luscz says.
When he got back to the Lannigan's house, the generator was "purring away" and he got to take a hot shower. His wife, Becky, and others cooked up the steak, lobster and shrimp he brought home from the restaurant, they uncorked the bottles of champagne and sat down to a candlelit dinner. Suddenly, Lannigan jumped up, turned on the stereo and Mozart began playing.
"Even in a disaster, you must remain civilized," Luscz recalls his friend saying.
As the recovery dragged on for months and months, good deeds abounded.
"And everyone, we started to help one another. It was a disaster but I would say the best part of Hugo to me, was, it pulled the people together into unity," Christopher says.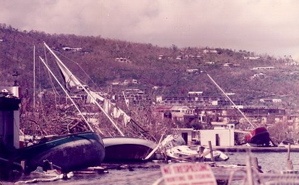 A month later, residents took to the streets with candles as they chanted "Thank God for Life."
Two decades have passed since Hugo devastated the territory, but for those residents who survived Hugo, Hurricane Marilyn in 1995 and the slew of storms that followed, the memory of that long, long night and the grim aftermath remains clear.
"So all in all, with all the horrors, we managed to survive and from the ruins caused by Hugo I think we created a stronger community that can withstand much stronger hurricanes today," Flores says, summing up what many survivors are saying to themselves as the territory remembers Hurricane Hugo 20 years later.