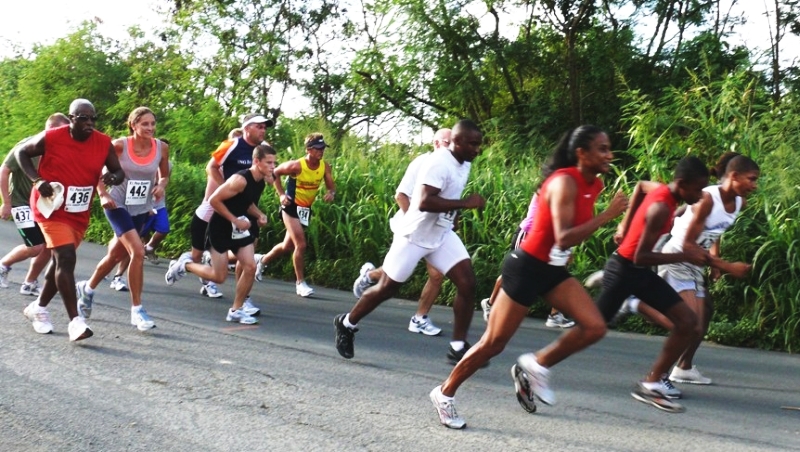 Seymour Walter, a senior at St. Croix Educational Complex, blew away the competition Monday in the 27th annual V.I. Pace Labor Day 5K Road Race with a time of 17 minutes, 51 seconds, a small improvement over his 2008 time of 18.14.
The race started just after 5 p.m. Shorlty after 4 p.m. runners and their families began congregating at the race's starting point in front of Arawak Bay: The Inn at Salt River.
The race starts at the inn, which is adjacent to Salt River, past Gentle Winds, near the area where Christopher Columbus first anchored in the Western Hemisphere in 1493. The runners, 21 of them this year, headed east along Salt River Road to a point near the entrance to the Scenic Road, then looped back west and returned the way they came, traveling 3.1 miles.
The Inn at Salt River sponsors the race. Jennifer Jackson, who owns the inn along with Lionel Jacobs, was a runner herself for many years and still runs and walks about six miles a day. Because of her running, she has known Wallace Williams, a founder of V.I. Pace Runners and organizer of the race, for many years. So when Williams approached her about sponsoring the race two years ago, she leapt at the opportunity.
"This is a good course here, because of the hills along the way," she said after the race Monday. "I walk this route almost every morning, heading up onto Scenic Road and around back to the inn, about six miles."
By dropping his hand, Shawn Hendricks of V.I. Pace Runners signaled the start of the race and the small throng was off. While waiting for the runners to go the distance, Keith Smith Sr., director of the St. Croix Track Club, made his predictions.
"Seymour Walter is probably the favorite," Smith said. "He's the best high school runner in the Virgin Islands right now."
Smith knows a bit about running. In fact, he won a bronze medal for the Virgin Islands in the 1991 Pan-American Games, he said.
The St. Croix Track Club had three entrants in the race Monday: Smith's wife, Mireille, their 11-year-old son, Malique, and a young man by the name of Ian Cuffy, who is in his second year at the University of the Virgin Islands. His club's runners were good, but Complex was very competitive, Smith said.
"It's hard to beat Complex because they are really good, but if he beats his personal-best time, he's moving in the right direction," Smith said of Cuffy, who ultimately won second place with a time of 18.23. That's considerably more than a minute faster than Cuffy's 2008 time of 20.07.
Third place went to Seymour's brother, David Walter, with a time of 17.51 — slightly slower than his 2008 time of 18.48.
"Next year, David gets to take over for me," Seymour said.
Seymour is a high school senior and plans to be elsewhere, running track in college, when the next race comes around. David Walter is a junior this year.
Among women, Mireille Smith took the top slot, finishing in 22.55.
While the young fellows were pushing for competitive position, many of the more mature runners were there to show they still had what it takes to finish the run in decent time.
"I've been in V.I. Pace Runners since its inception, but this is my first race since 1996," said Cecil Hodge, who works at Hovensa. "I still run regularly and I keep saying I'm going to race, and this year I finally did."
After all the runners crossed the finish line and everyone had a chance to cool down and drink a little water, the crowd moved to the inn's pool bar for medals and certificates.
"The top four men and women will get something like this," Hendricks said, holding up a medal on a ribbon. "You can take it home and wear it around all week," he said, getting a laugh from the small crowd.
Everyone who ran received a certificate. Once the ceremonies were over, the sun was setting and everyone made their way home.
2009 Labor Day 5K Road Race Winners
Men
1st — Seymour Walter 17.50.56
2nd — Ian Cuffy 18.22.55
3rd –David Walter 19.28.34
4th — Theo Mongeau 21.03.30
5th — Will Peil 21.11.48
Women
1st — Mireille Smith 22.54.82
2nd — Leslie Hamdorf 23.31.53
3rd — Elizabeth Nurnberger 27.24.00