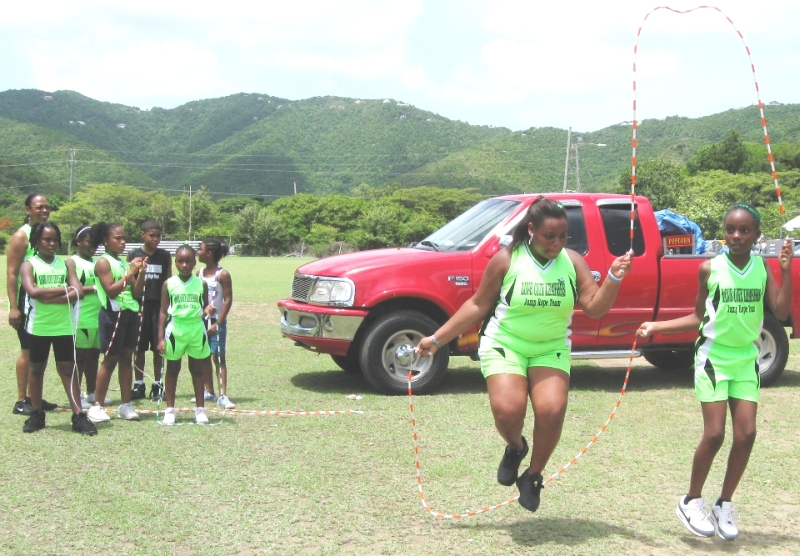 To the disappointment of many who showed up Monday expecting the traditional Coral Bay Labor Day parade to make its way through the village, few participants showed up and the parade didn't happen.
Many Coral Bay restaurants are closed and people are off island, so only two groups and one person showed up to march, said organizer Jane Johannes.
"I'm very disappointed," said Pat Harley, who, with Lisa Penn, was on hand to chaperon the nine members of the Love City Leapers jump rope team.
The Love City Leapers entertained for a bit in the Coral Bay Ballfield, and Dana Bartlett and her entourage of horses and riders from Carolina Corral marched along the parade route anyway.
Although Miss St. John and her court didn't make the festivities, the party did have one member of royalty on hand. St. John resident Ina Lee, who was a Miss Senior Virgin Islands, wore her crown and sash in hopes of marching in the parade.
The usual post-parade party in the Coral Bay Ballfield got underway a little early, but continued throughout the afternoon.
Maryland residents Pam Crittenden and David McKenzie, who were staying at the Wyndham Sugar Bay Resort and Spa on St. Thomas, took the ferry and the VITRAN bus to attend the parade after reading about it.
Standing in the ballfield in hopes that the parade would begin, McKenzie said he was interested in learning more about the island's culture.
"And the whole scenery is just amazing," he said, looking up at the hills that surround Coral Bay.
Beth Isler, a transportation intern at V.I. National Park, had a quick answer when asked what brought her to Coral Bay.
"VITRAN," she said, laughing.
She too came to see "what's going on."
Since there was no parade, food sales, music and socializing were the main event. Johannes said she had conch in butter sauce, stewed whelk and corned pork for sale.
Ivy Scatliffe had coconut candy, stewed tamarind and stewed gooseberry, along with maubi and other drinks at her table. Retired after a long career as a nurse at Myrah Keating Smith Community Health Center, she said she decided to sell food because she wanted a change.
"Change won't hurt," she said.
Director of the Fish and Wildlife Division under Planning and Natural Resources, Beulah Dalmida Smith, whose roots are in Coral Bay, manned the John's Folly Learning Institute table. She had cookies, candies and johnny cake on hand with pates, chicken and hot dogs on the way.
The money raised at this event, as well as many other food sales, goes to fund trips and other activities for the Learning Institute's children. A trip was planned to Great Smoky Mountains National Park on the North Carolina-Tennessee border, but Smith said it was canceled because of bad weather. A disappointment for that trip, but good news for the next one, she said.
"This way, we'll have more money," Smith said.