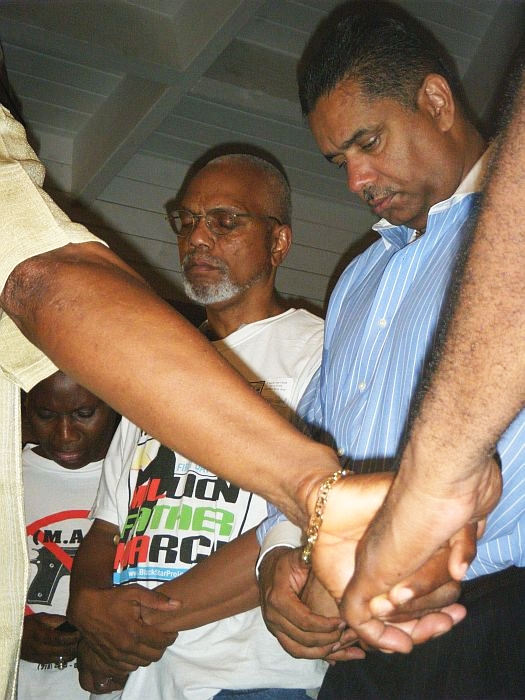 Wilfred Todman Jr. was late getting to Emancipation Garden Saturday evening.
When he finally made it to the bandstand, the master of ceremonies, Paster Othniel Vanterpool, playfully chastised him, saying that if he were in the military, his commanding officer wouldn't just take an "I was running late" as an excuse.
The audience spread throughout the courtyard started to chuckle, eying the young man dressed in a white T-shirt, blue-jean shorts and red baseball cap.
But their laughter didn't last for long. At the end of Todman's short speech, most people were on their feet, cheering, applauding and commending him on his accomplishments. Because it was stories like his that served as the inspiration behind what was happening in the park Saturday night: a rally for the Million Father March, in which a long list of speakers issued a call to arms for all the men in the community to rise up and take on a more active role in their children's lives.
Todman's parents died before he was 10. He had never met his father and barely knew his mother, and was eventually adopted by a female cousin who tried to provide a home for him. But when he found out that he was adopted, he began to act up in school and frequently got into trouble.
He was encouraged by a friend to join the local boxing program and, thinking it would be an opportunity to fight someone without getting into trouble, he joined. But two days later, he found himself back at the police station, and called on his adoptive mother to pick him up.
"She refused," Todman told the crowd Saturday.
Not knowing who to turn to, Todman was surprised when he saw his new trainer, Julian Jackson Sr., walking into the station.
"I said, 'What are you here for?'" Todman said. "And he said that he was there for me. I couldn't believe it. I had only known him for about three days. He took me to his house, and he said, 'I don't know why, but God sent me to help you. So I'm going to help you.'"
And from that point, everything changed. Inspired by the example set by Jackson's sons, Todman said he realized that he didn't have to fight or "do the wrong thing." Instead, he made it through junior high school, got his GED and now, at 22, he is working full time on the National Guard's counter-drug task force.
Scanning the fewer than 50 fathers, grandfathers, uncles and sons gathered Saturday in Emancipation Garden, Todman said he has realized he is "one of the few in my generation" left standing. And, in the midst of the applause that filled the park Saturday, he said he came to speak Saturday just to spread a simple message.
"Fathers, play a role in everything your child does," Todman said. "You'll see, especially if you have boys, that it will make a difference. It will help shape who they become."
The rally was organized by the local chapter of Mothers Against Guns and the Stop the Bleeding Foundation. Also speaking Saturday were Gov. John deJongh Jr., District Police Chief Rodney Querrard Sr. and a number of local clergymen, who all emphasized that it was time for parents — especially fathers — to become a more responsible and tangible presence in their children's lives.
Gathering under the dim lights of the bandstand after the program finished, the fathers, grandfathers and other guardians all took the V.I. Million Father March Oath, pledging to take their children to their first day of school Monday and continue to encourage and help them throughout the year.
The oath was administered by V.I. Superior Court Judge James S. Carroll III, whose wife, Celia Carroll, brought Mothers Against Guns to the territory after the couple's son, Jason Carroll, was gunned down in May 2000.
The Million Father March is sponsored nationally by the Black Star Project, a group that encourages parents and the community to be active in their children's education. An estimated 600,000 men in 475 cities participated in 2008. This year, an estimated 800,000 men from 550 cities are expected to participate. The Million Father March also provides an escort of safety, support and encouragement to children of all ages on their first day of school.