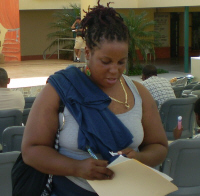 Speakers at the V.I. Million Father Rally Saturday at Sunny Isle Shopping Center in St. Croix brought different life experiences to their talks, but their message was the same: Fathers have to be involved in their children's lives.
"The easiest thing is making a child. The difficult part is raising them and educating them for 18 or 21 years," said Elton Lewis, former police commissioner, who said he looks at his six grandchildren as another opportunity.
"It is a privilege, a gift, to have the opportunity to be involved in you children's life," said Department of Human Services Commissioner Chris Finch. He said his department deals with many troubled youths and there is one consistent factor in their families – "lack of involvement by the father."
"My pledge to my children is that I will listen to them, that I will be there when they need me," said Sen. Sammuel Sanes.
"We have to take an active role in our children's lives," said Lt. Gov. Gregory Francis. He added that it is often hard for a male to say "I love you" to a child, but it needs to be said.
The rally was part of a program to urge fathers to participate in their children's return to school on Monday. It was sponsored by Mothers Against Guns and the Stop the Bleeding Foundation.
Cheryl Francis, wife of the lieutenant governor, is the driving force behind Stop the Bleeding, and said the turnout at the plaza's amphitheater was disappointing. Only about 60 people showed up. But she added, "It's OK. The speakers delivered a strong message and we will deliver it again."
A proclamation from Gov. John deJongh Jr. endorsing the rally and the Back to School Day of Prayer in the Virgin Islands was read.
The Back to School Day of Prayer is Sunday, and the Virgin Islands Million Father March is slated for Monday.
A similar rally was held in Emancipation Garden on St. Thomas Saturday. The rallies included fathers making pledges to accompany their children to school on Monday and to continue to take an active part in their education.