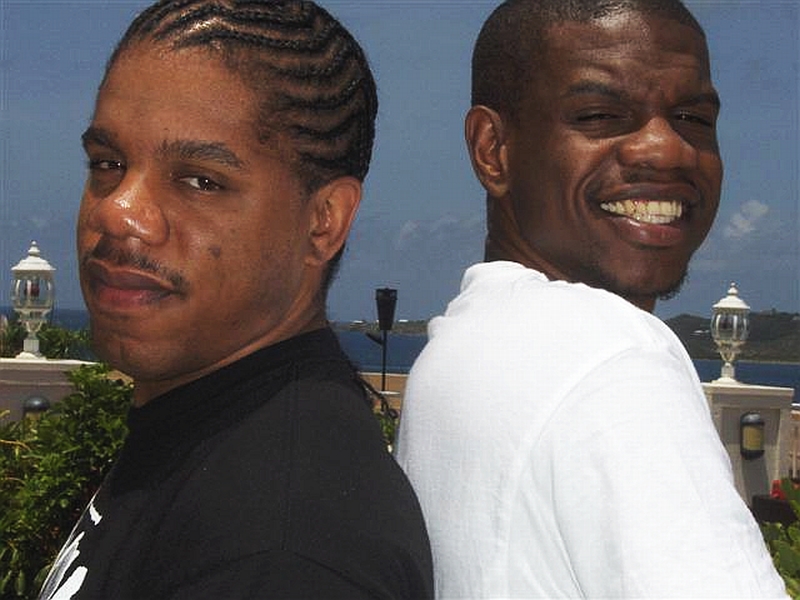 They rap to the world, but their hearts are firmly embedded at home. Timothy and Theron Thomas were back on the island this weekend to perform for the audience they love best, the one that has supported them since they were barely tall enough to reach a mike.
The Thomas brothers – first known as 2EKwhip, now Rock City – were on St. Thomas this weekend as full-fledged rap stars. They won their first Grammy award this year for Best R&B album for their work on Jennifer Hudson's "If This Isn't Love." They are writing a song that Akon will perform for the 2010 World Cup soccer championship in South Africa. They've also written songs for Mario, Usher, Janet Jackson, Ashelee Simpson and the Pussy Cat Dolls.
The young men shared a bit of this amazing musical adventure starting around 10:30 a.m. Friday in the lobby of Marriott's Frenchman's Reef, on the morning of their first scheduled appearance. They've been on island a few days. They are sleepy — Timothy appears for the interview in stocking feet — and polite.
At the Estate Bovoni Weed and Seed 2000 summer program, their first performance after graduating from Charlotte Amalie High School a month earlier, the brothers already had a following and a theme: "Stop the Violence – Keep the Peace."
They are anxious to explain how they developed their message so young. It's their dad, Keibo Thomas, to whom they refer more than once as a genius. Keibo, a long-time V.I. Legislature security guard, and the boys' mother, Jacqueline Pierre, raised the boys with lots of love, discipline and attention.
Theron, himself the father of three youngsters, laments the lack of parental influence today.
"Kids have to learn something other than violence," he says. "I don't have all the answers, but I know you have to listen to your kids. Our parents were always there for us. They didn't always agree with us, but they still supported us."
Though they have no formal musical training, that's been no obstacle.
"We started singing and dancing at home, at first just for fun," Theron says. "Our parents love music and they were always dancing. When started rapping, my dad heard us. He pushed us to the limit."
The brothers get a lot of love from old friends and fans when they come home.
"Kids will come up to us," Theron says. "They say 'I love you. I remember you from the third grade.' It's the best feeling in the world to walk down the street and be welcomed by your own."
Timothy's advice to youngsters: "At the end of the day, you have to channel your energy. You have to find that one thing you can do and direct all your energy to that. You have to step out for yourself. Say, 'What am I good at?' and do that. I don't think there's such a thing as being good at being bad."
This advice is what the brothers told youngsters too young to attend regular music venues Friday night at the V.I. Bush Tea Garden in Smith Bay, where they gave away free their newly released Rock City CD "PTFAO Independence Day," with a $5 ticket to the show.
Though they are grateful to have survived — "blessed," Timothy says — the brothers have a word of caution for anyone considering a career in the music business.
"It's harder than it's ever been," Theron says. "Sales are at an all-time low. I don't want to scare anyone away from their dream, but it's a lot of hard work — and more, if you make it."
They say a typical work day runs to 18 hours, between writing and recording at the studio, leaving to perform or to hear what's going on in the clubs, and back to the studio to incorporate new ideas.
They talk about their Grammy, still in awe of the honor.
"We'd been in L.A. recording for Brandy," Theron says. "Our manager was rushing us to get to the plane, when we had this idea. We jotted down a tune, and then we almost forgot about it. Brandy didn't like it, but Jennifer Hudson did. We didn't even know we'd won (the Grammy) until later. We called our dad right away."
Though they are well on their way to success, Theron says,"we have a ways to go as artists."
Their ambitions are not modest.
"We're doing what hasn't been done," Theron says with a winning grin. "We're the new face of the music business. We do R&B, rap, reggae and we do it well."
Their heroes, they say, after their dad, are Jay-Z, Bob Marley and the Fugees. After a well-attended performance Saturday night at the Old Mill Night Club, they were off Sunday to Atlanta. You can download four of the brothers' tracks for free at http://2dopeboyz.okayplayer.com/2009/07/04/rock-city-ptfao-independence-day-mixtape/.