Virgin Islands auto dealers are reaping big benefits from the federal "cash for clunkers" rebate program right now, as are residents swayed by the generous discount.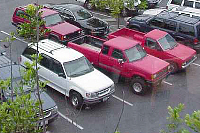 The Car Allowance Rebate System, better known as cash for clunkers, gives up to $4,500 to auto dealers for each old, less efficient car traded in for a new, more fuel efficient one. After using up its initial $1 billion almost immediately, Congress increased the program to $3 billion and will offer the rebates until November or the money runs out. That's enough funding for about 750,000 new car sales nationwide.
While it's been up and running nationally for a number of weeks now, it's just now beginning to take off in the Virgin Islands, partly because auto dealers were waiting for the federal government to certify a local company, V.I. Recycling, to accept and crush the clunkers.
Dealers on St. Croix say the program is boosting sales and emptying car lots.
"The entire production line is selling," said Howell Larry, general manager of Caribbean Auto Mart on St. Croix. "We just advertised last week and since then just: Boom. … On a scale of one to 10, I'd rate it a 10."
His one concern is that he's read in the news there have been delays in getting reimbursed by the government, he said.
"I'm just hoping everybody gets their money quickly," he said.
How much has business been helped?
"I can't give an exact number off the top of my head, but our business has doubled," Larry said. "We were down this year, like everybody. But I'd say we are selling at the same rate as two years ago right now."
A lot of the new customers are people who might ordinarily hold off on a new car purchase.
"I would say some are the types who keep their cars until they've been run into the ground — your good credit, good quality type of person who is conservative with their finances and keeps cars as long as they can," he said. "But $4,500 is a big incentive to buy now before the money runs out."
Though as a beneficiary he may not be unbiased, Larry said cash for clunkers is having several beneficial effects and was working as a quick, relatively low-cost stimulus.
"It has people spending money and it is getting gas guzzlers off the road, which is a good thing, probably," he said. "This is doing more to stimulate the economy right now than most of what is being done with the stimulus bill, much of which will not really get going for some time," he said. "This is stimulus that is working."
Joe Annis, general manager of Metro Motors on St. Croix, agreed the program was boosting sales over what they would have been without it.
"Auto sales are down nationwide," Annis said. "It has brought sales up somewhat but I wouldn't say it is an overwhelming change. … It has created traffic and it's a good thing for the public as it gives an incentive to trade in a car that is a gas guzzler and get a more fuel efficient car. "
What are customers trading in for? Ford is doing well at Metro Motors.
"Most people are buying the Ford Escape and Ford Focus," Annis said. "They get the mileage and they are very good autos, equal or very nearly to Honda and Toyota and good, tested products."
Sales are pretty evenly divided among Caribbean Auto Mart's brands, Larry said. But asked to pick the best value in a fuel efficient vehicle right now, Larry suggests the Pontiac G3.
"It's a $22,000 car, but GM is offering a $3,000 rebate, which combined with the government rebate of $4,500, brings the price down to $13,000," Larry said, with entrepreneurial zest. A make and model available for several years internationally but being sold in the U.S. for the first time this year, the Pontiac G3 is a small hatchback which gets 30 miles per gallon.
While the funding for the program is going quickly, Larry said he felt "comfortable" it was likely to last until at least the end of the month. But once the $3 billion is spent, the program ends, he said.
According to the federal government website set up to give information on the program, Caribbean Auto Mart and Metro Motors on both St. Thomas and St. Croix are currently authorized to give the rebates, though others are in the process of applying and may already be approved.
In general, if someone has a car that gets 18 miles per gallon or less and trades it in for a car that gets at least 22 miles per gallon, they qualify for a $3,500 rebate. If the new car gets at least 10 more miles per gallon, the buyer qualifies for a $4,500 rebate. Trucks qualify with somewhat smaller increases in gas mileage.
Dealers have to provide buyers with any other advertised rebates or discounts in addition to the federal credit. Consumers should expect the dealers to provide their best estimate of the scrap value for their eligible trade-in vehicle. Dealers are allowed to deduct $50 from this value for their administrative costs.
Buyers are required to leave your trade-in vehicle at the dealership and sign over the title to the trade-in vehicle at the time of the deal. Vehicles must be less than 25 years old on the trade-in date, and customers have to buy or lease a new vehicle, not a used vehicle.