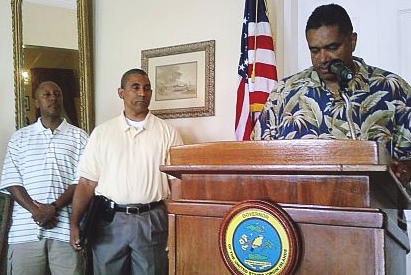 While it appeared Sunday that Tropical Storms Ana and Bill would merely sideswipe the territory, officials still cautioned residents to be prepared for an emergency in case one of them shifts.
By Monday, Ana was downgraded to a tropical depression projected to pass south of St. Croix.
The storm should dump about two to four inches of rain between Sunday evening and Monday, but tropical-storm-force winds should be minimally felt, if at all, said Raphael Mojica of the National Weather Service in San Juan.
On Saturday a warning was issued about the closing of the ports at 9 a.m. Monday, but that is no longer in effect, said Lieutenant Commander Tim Grant, the senior U.S. Coast Guard officer in the territory.
"We don't think the territory is going to be affected by what we call the gale-force winds," Grant said after the press conference. "So the ports are open right now, subject to changes in the weather."
It's also not likely at this point that local emergency shelters will be opened, though that might change if the weather worsens, V.I. Territorial Emergency Management Agency (VITEMA) Director Mark Walters said during a press conference held at Government House on St. Thomas.
The shelters have already been inspected and are stocked with supplies, said Human Services Commissioner Chris Finch.
Flooding is expected in the typical areas throughout the territory, and Public Works crews have been out working in the low-lying areas to make sure the water doesn't get backed up and continues to flow through, said Commissioner Darryl Smalls.
Meanwhile, Tropical Storm Bill — which is a bit further out — is currently packing winds of 60 miles per hour, and should be a hurricane by late Sunday evening or Monday, but should pass "a safe distance to the northeast" of the Virgin Islands later in the week, Mojica said.
Government briefings have been going on since Wednesday, and emergency responders have been working around the clock to make sure everything is in place in the event of a direct hit, Walters said Sunday.
Meanwhile, federal officials are also on the ground and have been monitoring the storm.
"Our center in New York City has been on constant watch and will continue to do so until both storms have passed," said Philip E. Parr, head of the federal incident management assistance team, who said agents are also stationed at VITEMA headquarters in case the storms' tracks change.
"Based on these forecast, we may be spared a direct hit," Gov. John deJongh Jr. said Sunday. "But we caution everyone that the paths of the storms may change. Residents should prepare for inclement weather starting Monday through the latter part of the week, and we also urge everyone to closely monitor what's going on and be prepared in case the storms do change tracks."