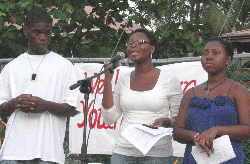 About 100 people from all segments of St. John came out Friday to support local young people at the St. John Youth Committee's Positive Summit and Rally for Peace and Change held at the V.I. National Park Ballfield.
"I feel very loved tonight," Hadiya Sewer, a Youth Committee member who was instrumental in organizing the rally.
The island's youth need to be empowered, Youth Committee member Malik Stevens said. "They need someone to speak out for them," he said.
Another Youth Committee member, Jessica Samuel, spoke about the apathy often prevalent among St. John youths.
"They feel they don't have power," she said.
Keynote speaker Cheryl Francis, wife of Lt. Gov. Gregory Francis and founder of Stop the Bleeding, addressed that issue when she told kids that the word "can't" shouldn't be in their vocabulary.
"Stay positive on everything you do," she said.
She told the Youth Committee members that they were sending a powerful message by organizing the rally. But she also reminded them that they are responsible for their own fates.
"Picture the life of your dreams and blaze your path to success," she said.
Miss St. John 2008, Razzilee Oquendo, spoke about the violence permeating the island's youthful community.
"Do yourself a favor and walk away to live another day," she said.
Two of the island's youths said they decided to attend the rally because they want to be involved.
"I heard it would be youth coming to speak out," Keith Abraham said.
His friend, Chade Edwards, 18, said he attended because he loves St. John.
The rally also saw attendance by at least two members of Gov. John deJongh Jr.'s cabinet. Education Commissioner LaVerne Terry said she made the trip across Pillsbury Sound from St. Thomas because the rally sounded intriguing.
"And the wonderful thing is youth doing for youth," she said.
Human Services Commissioner Chris Finch said that his department probably doesn't spend enough time with young people.
"And we probably hear least from St. John youth," he said.
Several St. John-based organizations and businesses set up tables at the ballfield so members could explain their programs to the kids in attendance.