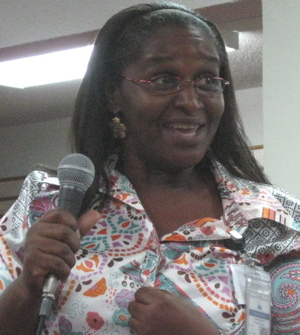 With hurricane season 2009 ramping up, federal and local departments and agencies outlined in minute detail just what assistance will be available and how to get it should a disaster strike.
They made their remarks at a meeting Wednesday at the Legislature Building on St. John.
"By now everyone should be ready for any storm that comes along," said Alvis Christian, who serves as deputy director on St. John for the V.I. Territorial Emergency Management Agency.
This meeting was the middle of three to be held across the territory. The meetings wrap up at 6 p.m. Thursday at the St. Croix Educational Complex.
While about 20 people were at Wednesday's meeting, only a few were St. John residents. The rest worked for the various agencies and departments that made presentations.
The American Red Cross will as usual operate shelters should a disaster occur. Primary shelters on St. John are Emmaus Moravian Church, Bethany Moravian Church and Julius E. Sprauve School. On St. Thomas, Charlotte Amalie High School serves as the primary shelter. St. Croix's shelters are Claude O. Markoe School and St. Croix Educational Complex.
According to the Marla Matthew, who heads disaster response for the Red Cross, secondary shelters will be opened if necessary.
She outlined key things residents need to do now to make sure they're ready should a disaster strike.
"Have a plan," she said.
She urged residents to have an evacuation route in mind and pinpoint a place for family members to meet.
The territory's food stamp program has a new name, the Supplemental Nutrition Assistance Program, called SNAP for short. Pauline Dawes, a training specialist in the family assistance program at Human Services, spelled out how it works when a disaster hits.
She said people already receiving benefits will continue to get them, but if the disaster has a big enough impact on the community, others will be eligible.
"You have to be experiencing some kind of hardship and have to be planning to buy food," she said.
That said, the program won't kick in until stores are selling food, and it takes two days until the registration for the SNAP program is complete because the department cross checks to prevent fraud, Dawes said.
Key to getting help in the event of a disaster is registering with the Federal Emergency Management Agency. Once registered, help may be available for rent, repairs, finding a place to live, and for Small Business Agency loans, agency representatives said.