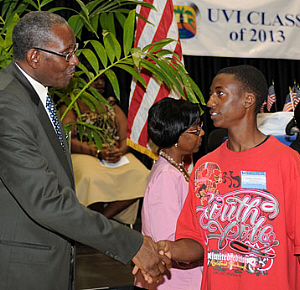 At about 10 a.m. Tuesday, nearly 200 freshmen lined up along a wall of the University of the Virgin Islands Sports and Fitness Center, turned, and with some shy smiles and some big grins, helped one another don the class pins they had just received.
It was a telling moment; their first in their common journey over the next four years.
The students, many accompanied by parents, were welcomed by UVI president David Hall along with other UVI administrators. Hall, former dean of Northeastern University School of Law in Boston, took the helm Aug. 1, replacing LaVerne Ragster, who stepped down in June after seven years at the top post.
Standing erect with a solemn smile, Hall told the graduating class of 2013, "We have a special bond, you and I — we are starting together today. You may be the first in your family to enter college, or come from a long line of scholars. We enter into a covenant today that you have the potential to be a leader. It is a choice.
"It is the value you place in life of your mind, heart and soul," Hall continued. "Leaders are not born. They are fashioned by life and the choices they make. You can choose to defy peer pressure in pursuing your goals. You can ask yourself, 'Am I here to do the things I never imagined?'"
The university has much to offer to every student, Hall said. "We want every student to reach his or her full potential. Never give up."
To illustrate his point, Hall, the first African-American to be appointed dean at Northeastern University Law School, shared some of his Georgia childhood with the new faces before him.
"I grew up in segregation in the South," he said, "where many were poor and uneducated. My mother had one day of school. She left to take care of her ailing mother. My father only reached the third grade. When I went to school, we had used books, we sat in the back of the bus. But we got an education."
The cavernous gym was bursting with energy, filled with students chatting amongst one another, comparing notes, appearing fully ready to take on the new adventure to which Hall had challenged them.
Though most of the freshmen and transferring students came from St. Thomas, the group still had an international flair. A show of hands revealed a handful of students from other Caribbean islands. Though few in number, cheers went up from the crowd for students from the British Virgin Islands, St. Martin, St. Kitts, Dominica and Haiti, along with about 15 from the U.S.
"This was my dream from a little boy," said Haitian student Ettiene Louis, grinning from ear to ear and looking far younger than the 31 years he claims.
"I graduated from secondary school in Haiti, and then I worked in my family's business. I moved here with my wife two years ago. I'm going to study criminal justice," he said.
A unique St. Thomas twosome, mother and daughter – Kathlyn Worrell, "40ish," and her daughter, Ka' Desha Grant, 18 – were also all smiles as they told of their mutual adventure.
Worrell, who has a master's degree in public administration, is pursuing a doctorate in public policy and management from UVI and the online Walden University with an eye to becoming "the territory's first female governor." Setting her sights high is not unusual for Worrell, who says she was a "teenage mom," now a mother of four grown girls.
Grant graduated this year from Ivanna Eudora Kean High School, winning a four-year scholarship from the Academy of Achievement. Grant, a bit shy, said, "I'm in the nursing program, but I'll also study biology."
Two teenagers from Frederick, Md., sat together looking wide-eyed at their new surroundings. Ashleigh Fossett and Josie Hildebrandt,said they were "invited to try out for basketball." For right now, they agreed, "we're just happy to be here." "I'm overwhelmed," Fossett said, adding, "I hate snow."
Classes begin Aug. 13. Orientation activities will continue until Aug. 14.