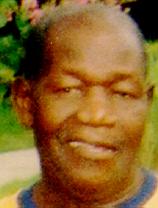 Macleen Richard, also known as "Mighty," of Estate Lagrange died on Aug. 9. He was 68 years old.
He is survived by his daughters: Bridget, Cheldona, Gardilia and Diana Richard; sons: Cornelius, Jeremiah and Smedley Richard; grandchildren: Ariana Milligan, Kenyatta, Kenyattra and Naquan Richard; sister, Patricka Edmunds; and brothers: Harold and Francis Richard. He is also survived by nieces: Norna, Deabra, Edna, Elsa and Esther Edmunds, Cindy Richard and Zenayah Jules; nephews: Linus, Philus, Gage and Eddie Edmunds, Peter and Jason Richard and Kevon Tonge; sisters-in-law: Amine and Tatine Richard; brother-in-law, Charles Edmunds; special friends: Mr. Isidore, Ms. Ford, Evelyn, Ken Charles, the Gordon family, Maggie and Ahkel Thomas; and other relatives and friends too numerous to mention.
There will be a viewing at 10 a.m. and a funeral service at 10:30 a.m., on Monday, Aug. 17, at St. Patrick's Catholic Church. Interment will follow at the Kingshill Cemetery.
Professional services are entrusted to James Memorial Funeral Home Inc.