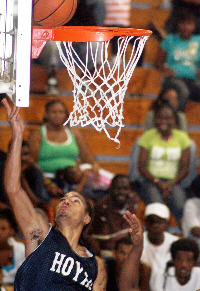 The three-time defending champion Hoyas are back in the finals of the New Breed Basketball Association Summer League, but it was not as easy as it might have been. The Hoyas defeated Guidance, 94-68, but for almost three quarters, Guidance gave the champs all they could handle and then some.
Fatigue and playing against the talented defending champs caught up to Guidance, who only dressed five players, by late in the third period. That, and one too many fouls, sealed the deal for the Hoyas.
The champs got off to a great start in the opening quarter, outscoring Guidance 21-8, but a 10-5 run would cut the lead to eight at 26-18 at the end of the opening period.
A 9-2 run by Guidance to open the second quarter allowed them to tie the game at 28. Both teams would continue to duke it out over the next few minutes and they were again tied, this time at 39, with 3:09 left in the half.
Guidance took their first lead of the game at 42-41 with 1:30 left to the delight of the crowd who wanted to see the upset. However the champs were able to battle back to take a one point lead at the half at 47-46. The Hoyas were paced by Darnell Hendrickson with 16 points and Ramon Castillo and Andre McIntosh with 12 apiece in the first half. Guidance got 14 points from Malik Hodge and 12 from Theron Jones to stay close to the champs.
The Hoyas came out strong in the third, determined to put away the undermanned Guidance squad. A 21-7 run by the champs and they were quickly up by 15 at 68-53, but a 7-4 run by Guidance to close the third cut the lead to 12 at 72-60.
The lead was 14 with just over three minutes gone in the final period when Guidance's Hodge fouled out, leaving his team with just four players. From that point to the end it was showtime for the Hoyas' Akeem Francis, who brought a crowd that included Gov. John deJongh Jr., more than once to their feet with some high flying dunks as his squad outscored Guidance 19-8 in the fourth for a 91-68 victory.
The Hoyas now await the winner of the Chosen Ones/Lakers series, now tied at one game apiece after a late night 100-89 overtime victory by the Lakers.
McIntosh led four Hoyas in double figures with a game high 25 points, Castillo netted 23, Hendrickson had 18 and Francis finished with 13. For Guidance, Kaseem Smith knocked down six three-pointers in amassing a team high 20 points, Lamar Bough scored 18 and Hodge netted 16.