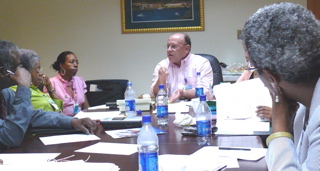 Juan F. Luis Hospital's governing board began the process of selecting a new hospital chief executive officer, Thursday evening, establishing some guidelines for selecting an executive recruitment and vetting service.
Former CEO Gregory Calliste resigned in July saying he was offered a once-in-a-lifetime position in New York City, his home prior to taking the Juan Luis position. Darice Plaskett, a long-time member of the hospital's management team, was named acting director during the transition.
While looking at potential recruiting agents based along the east coast of the U.S., board chairman Carmelo Rivera suggested a firm already doing executive recruiting at Schneider Regional Medical Center on St. Thomas might be economical because they are already doing the same task in the Virgin Islands environment.
"Are you thinking we might piggyback on their contract," asked board member Kye Walker.
"I think it would be wise to explore it," Rivera said.
A recruiting firm will provide a list of candidates from which the board will select. Dr. Peter Abrahams, a member of the hospital's executive team, said any CEO should have experience with the circumstances in the territory.
"He or she should have experience in the Caribbean, with the networks among historically black colleges, and factors like that," Abrahams said, suggesting the board set up a matrix of qualifications, requirements and preferences, so as systematically compare a number of candidates by the same criteria.
The board hopes to have a recruiter and selection process in before the end of September and install a new CEO by the end of the year, Rivera said.
In other business, the board debated options for personal civil liability insurance for board members. Personal financial liability for the board members for their actions while on the board became an issue in early 2008 when Calliste sued several of the board members after being fired, then re-instated as CEO. Board member Imelda Dizon said she had a proposal from a local insurer for $1 million in coverage for $35,000 or $3 million for $45,000. The board decided to approach the Territorial Board of the Virgin Islands Hospital and Health Facilities Corporation, the joint board of Juan Luis and Schneider hospitals to see if a single policy for all territorial board members was more economical.
Board members present were Rivera, Walker, Dizon, Valdemar Hill and (by telephone) Wallace Phaire.