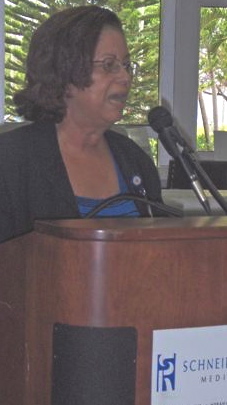 Quality Day may be every day at Schneider Regional Medical Center, nevertheless, staff and management took time out on this particular day to celebrate the organization's third Joint Commission accreditation.
The survey determined that the SRMC's three divisions – the Roy Lester Schneider Hospital, the Myrah Keating Smith Community Health Center on St. John and the Charlotte Kimelman Cancer Institute – are Joint Commission accredited for the next three years.
"I feel part of a valued set of employees," said SRMC Interim Chief Executive Officer Elizabeth Harris. "The joint commission surveyors were very happy with our organization at every level. They were so complimentary about our hospitality, our hospitalitness." She smiled.. "Is that a word? "
"Yes," came the immediate answer from the employees assembled in the brightly decorated lobby.
Harris paused a moment, then said, "I feel a lot of emotion today. We are fully accredited. Every day is a quality day, and it's all of you."
She noted that Tuesday had also been an important day.
"We went before the Senate budget hearing yesterday," she said. "We were able to communicate with the public, to share our story and to tell them about our challenges."
Mistress of ceremonies Angela Rennalls-Atkinson, SRMC chief operating officer, echoed Harris' sentiments. She noted the ease with which the hospital handled the July survey.
"I've been here for all three surveys," she said. "And this time was not as flustered as it has been in the past. Everyone knew what they had to do; there was no panic."
The lobby was filled with posters and displays from many of the center's divisions. In the morning the public had visited with representatives of the different divisions to learn specifics of the care available, from basics such as hygiene and hand-washing to chemotherapy treatments and information on the hospital's Rapid Response Team.
Any patient, family member or hospital staff member can activate the team 24 hours a day by dialing O. The team – an advanced cardiac life support registered nurse, a respiratory care practitioner and the nursing supervisor – immediately comes to the room to provide whatever is needed.
Rennalls-Atkinson asked something of her audience.
"I want you to tell me what improvements you have seen in the past three years."
Hands immediately went up. Among the many answers:
• Patient confidentiality
• Privacy, pulling curtains
• Medicine reconciliation – comparing the patient's medications, prescriptions taken at home, in the hospital, and in the future
• Safety – two wrist bands identification before any process
• A virtual radiologist, when resident radiologist not available
•A "time out" – that is before an operation, all stops while it is determined that it is the right patient, the right procedure and the right site.
• Blood usage criteria
• Orthopedic pathway – joint replacement and therapy
• Cancer screening, and
• Implementation and retention of local nurses.
Though all the improvements received applause, this last got by far the biggest hand. Securing a local nursing staff, as opposed to using traveling nurses, has been a challenge for the hospital for years.
Speaking after the ceremony, Harris said she hopes to get more than the budget allocated. "We need at least $8 million more to cover the projected fiscal 2009 deficit," she said. "The $29.9 million General Fund budget recommended for fiscal year 2010 won't cover it. We may have to live with it."
Harris said the search for a new CEO by Tyler and Company has narrowed to four candidates.
"We will be doing face-to-face interviews the last week of August,' she said. After a candidate is chosen, Harris said. "I am going to be here. I'll concentrate more on patient care and outreach, taking it to a new level of care."