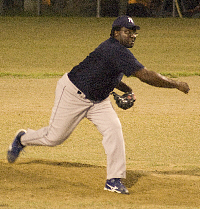 The Yankees drew first blood in their three-game playoff series against the Vikings, outlasting the defending champions 11-8 Friday night in the Raphael Jackson Double A baseball league at the D.C. Canegata ball park. The Yankees got two long home runs off the bat of first baseman Mackeel Rodgers and strong relief pitching from Leroy Simmonds who came on in the eighth inning to help preserve the victory.
After the Yankees failed to score in the top of the first inning, the Vikings got one run on a pass ball to take the early 1-0 lead.
The Yankees would then take the lead at 4-1 in the top of the third inning, after a scoreless second, scoring four runs on a two-run blast by Rodgers and a two-run single off the bat of José Morales. The Vikings answered with two runs on an RBI single by Tony Cruz and an unearned run to trail 4-3 at the end of three innings.
Eric Perez's two-run single extended the Yankees lead to three at 6-3 in the top of the fourth. The Vikings had no answer in the bottom of the inning.
Meanwhile the Yankees were back on the attack in the top of the fifth, plating four runs on Rodgers' grand slam home run to extend their lead to seven at 10-3. The Vikings again came up empty in their half of the inning.
A Vikings error accounted for the final run of the game for the Yankees in the top of the sixth and they now had an almost insurmountable 11-3 lead. The Vikings began a mini-comeback in the bottom of the inning, picking up a run on a sac fly off the bat of Gilberto Belardo to cut the lead to seven at 11-4.
Three unearned runs in the bottom of the seventh and the Vikings were within four at 11-7. That prompted the Yankees to make a call to the bullpen for closer Simmonds who pitched the final two innings, allowing two hits and a run to preserve the 11-8.
Elli Ramirez got the win on the hill for the Yankees, while Kenny Jackson got the loss for the Vikings. Top batters for the Yankees were Rodgers, 2 for 3 with two home runs and five RBIs, Morales 2 for 5 with two RBIs, and Simmonds was 2 for 2. For the Vikings, Juan Santana was 3 for 5 with an RBI, Cruz 4 for 5 with an RBI and David Clarke was 2 for 3.