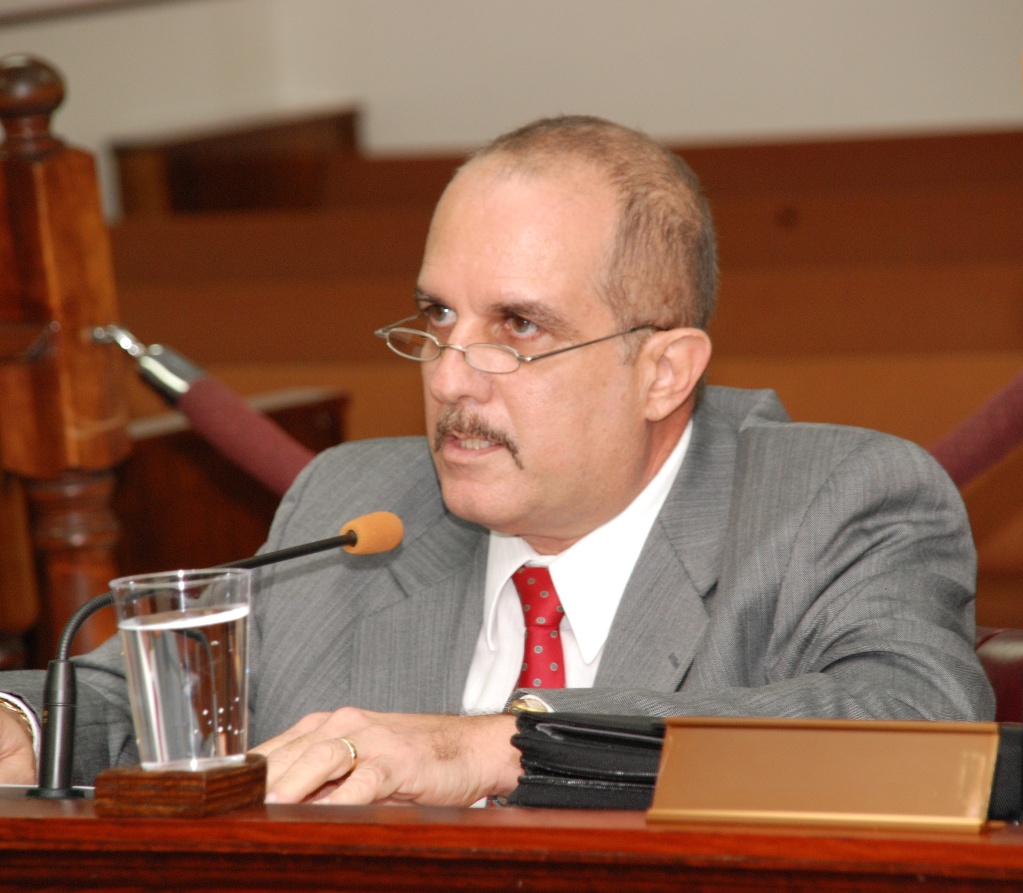 Steven van Beverhoudt, the Virgin Islands' first and so far only inspector general, flew through his fourth re-nomination hearing Monday in Frederiksted before the Senate Rules and Judiciary Committee.
"This one was easy," said Sen. Michael Thurland after the vote.
Van Beverhoudt has been in the service of the V.I. government for more than 30 years. For his first six years in civil service he was an agent of the Internal Revenue Bureau and since then has been an auditor with the Office of the Inspector General and its predecessor, the Bureau of Audit and Control, for 24 years. He was first confirmed as inspector general in 1989 and reconfirmed in 1995 and 2002.
Van Beverhoudt cited the creation of a more powerful Office of the V.I. Inspector General as his proudest achievement.
"This … not only provided for a more independent office, but it also gave us the authority to investigate allegations of fraud, waste and abuse," he said.
His office and the Federal Bureau of Investigation were the driving forces behind investigating the Global Resources Management corruption case, he said. That case saw the conviction of former St. Croix Administrator Ohanio Harris and several local businessmen on bribery, theft, wire fraud and conspiracy charges.
"We also initiated the investigation of the Elite Technical Resources case before turning over the primary investigation to the FBI and the U.S. Attorney's Office," he said. That case sent former commissioners Dean C. Plaskett and Marc Biggs to prison on corruption charges.
More recently van Beverhoudt's office investigated and prosecuted the public corruption case against Gov. Charles Turnbull's former deputy chief of staff, Alric Simmonds, for embezzling more than $1.2 million in government funds. Van Bevernoudt said he is still assisting the V.I. Department of Justice in investigating and prosecuting former management of the Schneider Regional Medical Center.
It was his office's 25-page audit that triggered criminal investigations when it showed the medical center's top three executives — Rodney Miller Sr., Amos Carty Jr. and Peter Najawicz — were paid hundreds of thousands more than what was outlined in their employee contracts and used the center's official credit card for at least $317,200 in personal purchases.
Born on St. Thomas, van Beverhoudt received a bachelor's degree in accounting from the then-College of the Virgin Islands in 1979. He is certified as a fraud examiner and a government financial manager. He is married to the former Myrna Velazquez Soto of Frederiksted and they have two sons.
Voting yea to forward van Beverhoudt's re-nomination to the full Senate were Thurland and Sens. Carlton "Ital" Dowe, Neville James, Usie Richards, Patrick Sprauve and Celestino White. Sen. Sammuel Sanes was absent.