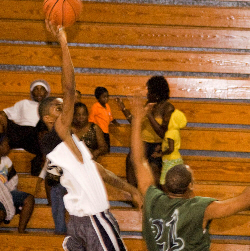 Umoja outscored the North Stars 17-9 in the first quarter of their Monday night New Breed Basketball Association contest on their way a relatively easy 79-62 victory over the league's youngest team at the Educational Complex gym.
The North Stars are now the only winless team in the league, and things are looking very dire for the Stars with a tough schedule ahead.
After the one sided opening period, Ian Fleming scored all the points he would score in the game, 10, to lead Umoja in the second period to 22-17 second quarter and a thirteen point lead at intermission, 39-26. The North Stars also had a better second quarter as five players got into the scoring column to help keep Umoja within striking distance.
The third quarter was an erratic one for the North Stars as they continuously blew opportunities to score while also turning the ball over with their "And One" style of play. Umoja who also blew some wide open looks was however better and led by nine points from Akeem Gumbs they were able to extend their lead to 61-42 after a 22-16 third.
The North Stars best offensive output came during garbage time in the final quarter. They got eight points in the period from the late arriving Craig James to outscore Umoja 20-18 but the game was long decided.
Gumbs led five Umoja players in double figures with a game high 16 points. Andy Swanston netted 15 points and grabbed seven boards, John Caston netted 14 points with eight boards, and Fleming and Paul Jones both finished with 10 points for the winners. The North Stars was led offensively by Dwayne Nesbit with 14 points. He was joined in double figures by teammates James, Eugene Roberts, and Marlon Roberts who finished with 13, 12 and 10 points respectively.