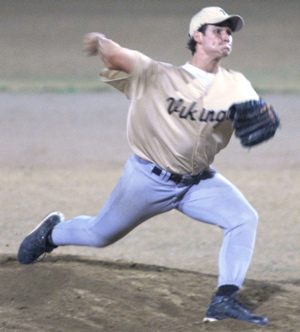 The Viking scored eight runs in the second inning off of Yankees starter Daniel Fraco and that proved to be more than enough runs for their ace, Zack Prudoff, who pitched five strong innings to get the win in his team's 10-4 victory at the D.C. Canegata Ball Park.
Ivor James relieved Prudoff in the final inning of the time-shortened, six-inning contest, blowing away two of the four batters he faced.
After a scoreless first inning, the Yankees got on the board with one run in the top of the second on an RBI ground out off the bat of Lionel Danielson. But their 1-9 lead was short lived, as the Vikings erupted for eight runs in their half of the inning, sending Fraco to an early shower. Veteran Malcolm McGregor came on in relief and held the Vikings to just two runs the rest of the way, but the damage was already done. The Vikings scored their eight runs on two-run doubles by Tony Cruz and Arthur Canaii, an RBI double by Cantibol Encarnacion, an RBI single by Roderick Moorehead, and bases-loaded walks drawn by Collin Williams and Tony Watts to take the lead for good at 8-1 after two innings.
The Yankees got one of those runs back on an RBI grounder by Steve Simmonds in the third, but the Vikings answered with an RBI single off the bat of Canaii to push the lead back to seven at 9-2.
Omari Eastman's RBI single in the top of the fourth plated another run for the Yankees to again bring them one run closer at 9-3, and this time the Vikings did not answer in their half of the inning.
Prudoff pitched a scoreless fifth to complete his day's work before turning things over to James. Meanwhile the Vikings scored their final run of the game in the bottom of the fifth inning on Keymoh Degras' RBI, to take a 10-3 lead after five completed innings.
Reliever James blew away the first two batters he faced before giving up an RBI triple to Eastman. He then got the next batter he faced to hit a slow roller to second for the final out of the game and the 10-4 victory for Vikings, who hold second place in the the Raphael Jackson AA Baseball League.
Prudof got the win on the hill for the Vikings while Fraco took the loss. Top batters for the Vikings were Canaii, 2 for 4 with three RBIs, Encarnacion, 2 for 2 with an RBI, and Odingo Davila, 2 for 3. For the Yankees, Eastman went 3 for 4 with two RBIs.